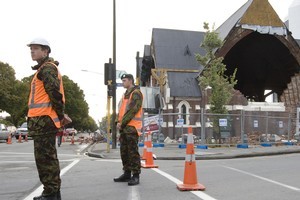 A "deeply moving" blessing has been carried out over the bodies of 123 people killed in the Christchurch earthquake.
MPES head Superintendent Wally Haumaha said the blessing ceremony at Burnham Military Camp morgue yesterday gave cultural respect and dignity to the dead before mortuary procedures began.
It also involved disaster victim identification officers and medical staff.
"The ceremony was a deeply moving experience for all those involved."
Police Maori, Pacific and Ethnic Services (MPES) have 10 staff catering to the cultural needs of victims' families as the bodies of their loved ones are returned.
MPES and Foreign Affairs staff will also be speaking with different religious denominations to ensure correct customs are adhered as bodies are released back to the families.
Two police padres will be staying at the mortuary with the quake dead.
It is thought there are dead and missing from more than 20 countries in the wake of the 6.3 magnitude aftershock.
- NZHERALD STAFF