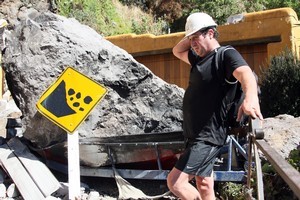 Smashing his way into his devastated home today, Christchurch man Ed Langston appeared somewhat resigned to having lost his house and business in Tuesday's deadly earthquake.
The three-storey house in the suburb of Redcliffs, southeast of the city, was devastated by the magnitude 6.3 earthquake when part of the hill behind it came crashing down.
An outside stairwell, which had been the main entrance, was no more than a pile of rocks on the ground, while a cave that had been used as a small business was cut off by the rubble.
A boat, crushed under a boulder of the same size, sat on the front lawn with an ironic road sign, showing falling rocks, leaning up against it.
Mr Langston said his 67-year-old father was in the house when the quake struck.
"He's ok, but very traumatised," Mr Langston told NZPA.
"He was stuck and managed to get through a gap in the rocks to pull himself out."
Officials had come by yesterday to check no one was in the house but were yet to officially restrict entry, he said.
"I'm just trying to get things out while I can. I've grabbed things like my hard drive, my laptop - some essential things, but unfortunately most of my valuables are in the cave."
He was going to search for his passport in the debris this afternoon.
The inside of the house was as bad as the outside, Mr Langston said.
"Everything's just thrown everywhere, most things are broke. The back door's caved in and I managed to kick my way into the middle floor- the stairwell's collapsed."
The loss of the cave, which was hired out for events like weddings, was particularly disappointing.
"It's been going for 15 years and we were just in the process of formalising it with the council," he said.
"I guess that's not going to happen now."
Mr Langston said he had spent the last couple of days driving around to check on a group of older people.
"Just making sure they've got milk, and water, and bread that sort of thing.
"There's not much I can do here," he said.
MJe said he had not thought about a long-term plan, and was currently staying with friends.
"I do have insurance - to what extent I'm not sure."
- NZPA