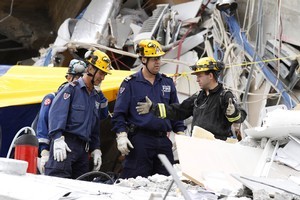 Rescuers have found no survivors at two Christchurch CBD buildings where signs of life were reported this morning, the Fire Service says.
Special operations national manager Jim Stuart-Black earlier said someone appeared to be alive in one of the buildings in the central city.
Newstalk ZB reported that rescuers had made contact with a survivor trapped in the rubble of the Holy Cross Chapel on Chancery Lane, where it is estimated more than 20 people remain trapped.
Mayor Bob Parker also said there had been contact with a person at the site.
"There has been an identification of someone in the area who was still alive. Our team is focused on that.
However, two Australian search and rescue teams who were deployed to the building said they found no-one there.
They told Newstalk ZB they had since been sent to the PGC building.
A Fire Service spokeswoman said search and rescue teams with dogs had done a full investigation and been unable to find any signs of life at two buildings on Chancery Lane and Gloucester St.
Police earlier said no more survivors had been pulled out of the rubble overnight, with the last person rescued alive at 3pm yesterday.
Search and rescue teams today began moving into the suburbs of Christchurch looking for the dead and injured from Tuesday's 6.3 magnitude earthquake.
Civil Defence Minister John Carter said 72 people had been confirmed dead but there were a number of other bodies yet to be identified. Police experts are using DNA, dental records and fingerprints to formally identify victims.
Speaking to media at the Civil Defence bunker in Wellington this morning, Mr Carter said search and rescue workers had been concentrating in the central city where most of those trapped were believed to be, but that personnel were now entering other areas.
Teams of 70 workers were now going to places where there could be smaller numbers of dead or injured, Mr Carter said.
American and British search and rescue teams were due to arrive tonight, he said.
The missing
Police have taken over collating lists of those missing since the Christchurch earthquake, with a figure of 300 just "speculation", Mr Carter said.
Mr Carter said information on the missing was coming from a number of different "information streams".
"Police are now acting to ensure that the lists are accurate and that we will have a definitive list of who's missing."
But Police Superintendent Russell Gibson told TV3 the number was "significantly more" than 300 however some people were reported missing just because they had not answered their mobile phones and that did not mean they were dead.
John Key - 'sizeable' number missing
Prime Minister John Key said by the end of the day authorities should have a better idea of how many people were missing but he believed it was "sizeable".
He revealed some of his own friends may be among the missing and said he could appreciate the frustration felt by those who still did not know the fate of their families and friends.
"I myself have got one or two people I think might be missing and I personally would like to know the status of them."
There have been issues putting a number on how many people are actually missing as many people may have left town following the quake without telling anyone, he said.
"The longer someone has been missing and expected home, the more likely they have been caught up in the disaster - but it doesn't mean they are dead," Mr Key said.
"The problem with missing numbers is we don't know the starting point of how many people were still in a building and how many left. Obviously we know when a loved one rings up and says 'my husband/ wife/ child has not come home' we can track that down more easily. It's when you get into the international potential fatalities it becomes a much more complex picture," Mr Key said.
He said on the best advice available, it appeared there were fatalities from several countries and he expected to know further by the end of the day or tomorrow.
While he appreciated the frustration of not knowing, he believed the police were doing the best they could.
"In the end the niceties sometimes go out the window and the number one focus is to get people out. That's where police have been focussed with the search and rescue teams and in the end I think that's the right call. If we can save someone, we have to try to save them."
He said if someone was still missing it did not mean there was dead as there was a very 'real' possibility people were still trapped alive but unable to communicate.
Police were sending dogs in "but they're not getting a huge number of positive responses from the buildings that we would expect there to be more people trapped alive."
Next of kin had been contacted in some cases, he confirmed.
"The priority must be with families, but there are also friends."
Infrastructure
Mr Carter said 431 patients had gone through the emergency departments since the earthquake.
He said reports showed water and wastewater are "significant issues for us" and that 80 per cent of the city was without reticulated water.
Power had been restored to 60 per cent of the city with the eastern areas worst affected by ongoing outages, he said.
Mr Carter said forty teams of building inspectors, EQC staff and welfare personnel were now beginning to check the safety of buildings and that number would increase.
Mr Carter said the Lyttelton tunnel remained closed to non-emergency traffic but main roads out of the city and the rail link between Picton and Christchurch were now open.
According to GNS Science there have been 23 aftershocks in Canterbury since midnight.
A 3.3 magnitude quake struck at 10.28am at a depth of 11km, 20km south-east of Christchurch.
It was followed by a 3.4 magnitude quake at 10. 31am, which hit at a depth of 6km, 10km south-east of the city.

The numbers
72 dead
300 reported missing
164 patients had been admitted as "seriously injured 80 per cent of the city without reticulated water 40 per cent of the city without power
$16 billion JP Morgan damage estimate
1000 number of rescuers by this weekend
40 police cordons in the city
1464 NZDF personnel directly supporting the operation
431 people had gone through the Emergency Department 20 people are thought to remain in the pancaked PGC building