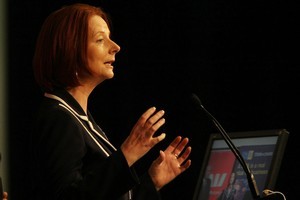 Australian Prime Minister Julia Gillard has pledged to give everything the nation can supply to help its "New Zealand family".
Emergency authorities have already sent teams across the Tasman, drawing experts from services already stretched by an Australian summer of floods, fires and a cyclone.
Ms Gillard said the strain on emergency workers was being taken into account and they would not be pushed beyond their limits.
"But this is what they train to do, what they live to do and what they want to do - go and help others."
She said her message to New Zealand was: "Please ask. We'll do everything we can."
About 150 urban search and rescue specialists have been sent from New South Wales and Queensland, with sniffer dogs.
Another 20-member medical team of emergency experts, orthopaedic specialists, general surgeons and surgery support teams has also been sent and New South Wales is expected to provide extra officers in response to a New Zealand police request.
Ms Gillard expected further requests for practical assistance such as water purification units, tents, medical evacuations and federal police victim identification specialists.
"We will be doing everything we can to work with our New Zealand family," she said.
Officials are trying to find more than 1000 Australians registered as in Christchurch at the time of the quake.