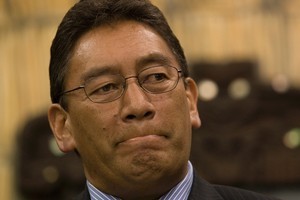 Hone Harawira's decision to quit the Maori Party and become an independent MP is a sensible outcome to an irreconcilable situation, Prime Minister John Key says.
Mr Harawira's announcement today followed a meeting of the party's national council which was considering a disciplinary committee recommendation to expel him, and avoided further strife over his future.
A compromise has been reached - Mr Harawira will stand as an independent in his Te Tai Tokerau electorate in the general election on November 26 and the Maori Party won't put up a candidate against him.
Mr Harawira said he was going to "build a movement" but wouldn't challenge any Maori Party MPs in the election.
"I'm comfortable with the view that we have come to a point where we can all agree that it is best for me and the party to go our separate ways," he said.
Mr Key said there had clearly been an irreconcilable breakdown in the relationship between Mr Harawira and the party.
"To reach a position where they're going to part and at least respect each other's point of view is probably the most sensible outcome," he said.
The disciplinary committee had to deal with a complaint laid against Mr Harawira by his caucus colleague Te Ururoa Flavell over the MP's outspoken criticism of the party's relationship with the Government and his complaint that National was developing anti-Maori policies.
After weeks of inconclusive meetings, the committee said on Monday it was recommending to the national council that Mr Harawira should be expelled.
The national council had been expected to endorse that, but it didn't have to because members talked it through with Mr Harawira and he announced the outcome himself.
Mr Harawira said he didn't want to see the Maori Party destroyed by infighting and he was looking forward to the next few months.
"I intend setting out a very clear policy programme around issues I intend to prioritise but I have also advised the party leadership that I will make myself available to meet with the caucus to discuss issues of common concern," he said.
Mr Harawira has given his proxy vote to the party so it can be cast when he isn't in Parliament, which maintains a link with its caucus.
- NZPA