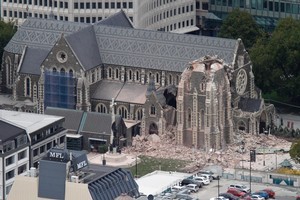 'I THOUGHT HE WAS GONE'
A young father-of-three - with another baby on the way - said he thought of his loved ones as he awaited rescue in Christchurch's Canterbury TV (CTV) building after yesterday's magnitude 6.3 quake reduced.
Tupi Emery was trapped for five hours while his mother, Tania, stood in vigil outside the central city building, which was reduced from a seven-storey building to a burning pile of rubble.
He had gone to see a doctor on the fourth floor of the building, and his mother had just left when the quake struck at 12.51pm.
He texted her continually while he was trapped. "Really, I thought he was gone," his mother said.
Mr Emery said he could hear other trapped people calling out for help.
"I was banging on the metal, yelling out 'help', because my voice was better than theirs," he told TVNZ's CloseUp.
He suffered cuts and burns and when asked how he was feeling, he replied: "Alive".
Mr Emery said thoughts of his loved ones kept him going during his ordeal. "I just thank everyone that is out on the street today, and all over, that is helping others."
He said he planned to "live life to the fullest".
TABLE STOPS MAYOR
Christchurch Mayor Bob Parker told the Herald he had just come out of a council briefing at the council headquarters and was seated on an outside deck on the sixth floor of the Hereford St building when the earthquake struck.
Mr Parker said he stood up to get back into the building, but the motion was so violent and intense that he was thrown on to a coffee table.
When he managed to get back into the building, he saw his second wife, Joanna. "The first thing you do to someone you love is you just seek immediate solace and embrace."
As for the rest of his family, including a son from his first marriage, three grandchildren and his parents, who have just celebrated their 60th wedding anniversary, Mr Parker was worried because he had not heard from them.
Along with staff, some of whom were hurt by flying glass, he evacuated the council building with his mobile telephone and Ipad.
"This is a black, black day," said Mr Parker, as he surveyed the destruction and dust rising from the city.
Soon after the earthquake, Auckland Mayor Len Brown sent a message to Mr Parker saying the thoughts of Auckland were with Christchurch.
"Auckland Council will do everything it can to help as the people of Christchurch pick up the pieces. In the meantime, our thoughts and our prayers are with you."
Mr Brown said he would discuss a number of options with council officers, including the provision of road and water engineering support, civil defence, and specialists in building consents if they were requested.
'HOLDING DOOR CALMLY'
Jennifer Eder was in a lecture theatre at Canterbury University when the first earthquake hit the city.
"Class had just been let out and the foyer was full of students, and the whole building shook, students were slipping down the stairs, ceiling panels were falling from the two-storey high ceiling, and one guy was holding the door open very calmly while screaming students rushed outside - I remember being very impressed by him.
"Fire alarms were going off in a computer science building as well as in another one on the other side of the uni."
She said students were shepherded to the Ilam fields, but many milled around the bus stops until they realised buses were no longer running.
"The second aftershock hit while I was outside and I saw one parked car rolling between the two cars on either side. Students everywhere were bursting into tears and hugging each other, traffic was back to back and I overheard one international student exclaim that they were heading home."
FENCE ON THE ROAD
Burwood woman Apa Donders was at work when the quake struck.
"I was having lunch. I jumped under the table and thought 'this isn't strong enough to save me'," she said.
"It was really, really bad. My house, the bricks are all over the ground, my fence is out on the road, there are cracks everywhere. It is only just holding together, any more shakes and it won't take it."
Mrs Donders said the quakes felt like they were "non stop". Another aftershock hit as she spoke to the Herald. "In regards to the death toll, I'm in emotional and physical pain. That's the only way I can describe it.
"I'm just exhausted. My house looks like a tornado has ripped through it and ripped everything apart."
SCENES OF CHAOS
Karina Barney had just left work when the earthquake struck.
"I had to hold on to the street lights to stop falling over. I was right outside a cafe and could hear glass smashing and everything going everywhere."
She saw chaotic scenes of people trying to get to hospitals through roads blocked by traffic and debris.
"We were standing outside Oxford Terrace and a van came down the wrong way toward hospital ... They were doing CPR in the back of it," Miss Barney said.
CALL LEFT UNANSWERED
Russell King, a motor assessor for Tower Insurance, was in shock as he stood outside the Christchurch Cathedral.
"In the main chamber, there's nobody there, or they're passed away. I went into the main chamber with another gentlemen with hard hats on," he told TV3.
"I yelled out three times, 'Is anybody there?' Dead silence and no replies ... I believe there's nobody in there and if there is they're probably unconscious or passed away."
LONG WAIT FOR SON
Wrapped in a blanket and with a dust-mask on, a distraught woman cried when she could not reply to her son's desperate text.
"Because my phone's not working, he's going, 'Please ring me, Mum. Ring Me'. He sent me a text saying that he loves me," she told TVNZ.
FELT IN INVERCARGILL
Melissa Chilton was on the fourth floor of the SBS Bank Head Office in Invercargill with her work mate when she felt the building tremble.
"We noticed the quake start shortly before one with the building creaking audibly a few times, while the pot plants and ferns all shook and swayed and the office door wobbled back and forth a little.
"It went on for about a minute and I thought, hell - that's a 'biggy' in Fiordland. Then the alert came online that it was, in fact, Christchurch. I knew this one was serious to feel it this strongly in Invercargill," Miss Chilton said.
"My heart and wishes go out to everyone and those who have suffered serious loss of a family member or friend. Dear Lord, when will it stop?"
Reporting team: Amelia Wade, Bernard Orsman, Nicholas Jones, Anna Leask, Andrew Koubaridis, NZPA