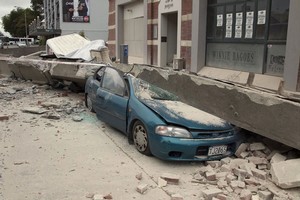 Darkness, rain and temperatures are falling on Christchurch with people still trapped in buildings crumpled by a massive earthquake, waiting on search and rescue teams to get them out alive.
Rescuers will work throughout the night in miserable weather looking for survivors following a 6.3 earthquake which claimed at least 65 lives, Civil Defence director John Hamilton said.
Emergency services were focussing on high rise buildings in the central business district, many of which were extensively damaged, police said.
Prime Minister John Key announced tonight that "at least 65 people have lost their lives" and noted the rescuers were still scrabbling through the ruins of collapsed buildings looking for injured and trapped survivors - and bodies.
The death toll is already the second highest in a New Zealand earthquake - out ranked only by the 286 people who died in the violent 7.9 1931 Hawke's Bay quake, whose 70th anniversary was marked earlier this month.
At a press conference this evening, Deputy Prime Minister Bill English said 350 military personnel were currently in Christchurch providing first aid, security and search and rescue services.
Welfare centres have been set up at Hagley Park, Burnside High and Addington Raceway.
The Hagley Park and Addington centres have both closed due to high numbers.
People were instead asked to go to Burnside School, Papanui High School, the Lyttelton Recreation Centre, Brooklands Community Centre or Akaroa Senior School.
Mr English said specialist search and rescue units from Auckland and Palmerston North will be on the ground within the next hour.
"The Government is willing to throw everything it can at a rescue effort where time is going to be of the essence," said English.
He said he had signed an approval order for any extra spending that would be needed.
Mr English said foreign tourists and overseas students were likely to be among those affected by the earthqauake, and there had been inquiries from other governments.
Included in that number is twelve Japanese students from a foreign language school who have been reported missing in the rubble of a Christchurch building.
The Sankei Shimbun newspaper said two Japanese teachers and nine students were rescued, but 12 students from were missing in the Peterborough St building. They are from Toyama city.
NNN television news network has quoted Toyama city authorities as saying that three of the rescued students have been taken to hospital, one in a serious condition.
Police have reported "multiple fatalities" at several locations in the downtown area, including where two buses were crushed by falling buildings.
Today's shake, measured at 6.3 on the Richter Scale, followed the massive 7.1 tremor on September 4 last year. That one struck in the early hours of the morning and no one was killed.
Today's earthquake jolted the city at 12.51pm, the worst possible time with the central city packed with lunch-hour shoppers, office workers and many school children.
Victims were crushed to death as buildings collapsed, many of them weakened in last year's event.
The quake was not as powerful as the 7.1 that struck in early morning hours of September 4 last year but was much shallower, leading to greater damage.
Scientists put the epicentre at 10km southeast of the city - apparently in the middle of the harbour at Lyttelton, the city's coastal port - at a depth of only 5km.
Radio and television reported damage in the town of Lyttelton was severe.
The Pyne Gould Guinness building, several storeys high, folded up like a pack of cards and rescuers were still trying to find trapped occupants tonight.
Up to 50 people were said to be in the wreckage - alive or dead.
Rescuers were trying to get people out of the Canterbury TV building in Madras St, while firefighters battled a fire there.
The famous cathedral in the city's downtown square which stood undamaged last September lost its spire today and suffered heavy damage.
Reports that people were in the spire when it tumbled into the church itself and the square outside could not be verified immediately.
Mr Key flew to Christchurch this afternoon and after a quick tour of the city described it as "utterly wrecked", adding "this is an absolute tragedy for Christchurch".
"We may well be witnessing New Zealand's darkest day," he said.
Graphic photographs on television showed blood-splattered survivors scrambling from downed buildings or crawling from under shattered shop verandahs that had fallen on to city footpaths.
Crushed cars lined parking spaces, masonry scattered across roads.
Christchurch mayor Bob Parker, lauded for his behaviour and slick civic control in the wake of last year's quake, said the damage today was much more severe than in the great 7.1 quake almost six months ago.
"The city centre is like a war zone and damage is immense. Everybody needs to understand that this is going to be a day of very black news," he said.
He declared a state of emergency, adding Christchurch and Canterbury would need help from the rest of the country.
Christchurch Airport closed after today's earthquake and was to remain shut down overnight, open only to emergency flights and aircraft carrying rescuers and medical helpers.
Extra police, armed forces troops and search and rescue teams were heading for Christchurch tonight and the inter-island ferry heading for the South island from Wellington carried a group of 40 police, among them victim-identification specialists.
A 73-strong New South Wales search and rescue team arrived in Christchurch tonight and will go to work at first light tomorrow.
The road tunnel under the Port Hills linking Christchurch and Lyttleton was closed for some hours but was reopened tonight for emergency vehicles.
The earthquake ruptured sewer and water lines, still under repair after last September, and LPG gas lines were shut off after consumers reported leaking gas.
One third of the city was without electricity tonight after the quake brought down lines and poles.
Heavy aftershocks continued to roll across Christchurch tonight, further frightening shocked residents. A 5.0 magnitude jolt hit at 7.43pm.
Some reports said the majority of the damage was confined to Christchurch and nearby areas and that rural property had not suffered greatly.
But on the west coast, the face of the immense Tasman Glacier collapsed in enormous chunks into its lake following the earthquake.
- NZPA, NZ Herald staff