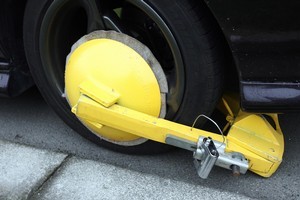 Disgruntled drivers are being encouraged to take legal action after being hit with fines of up to $300 by a "cowboy" clamping company in Auckland.
About 30 people have complained to police about the tactics of Katoas & Clamps in a private carpark in Onehunga.
Five businesses served by the carpark hired the company to clamp cars of non-customers.
Some parked there for hours while they shopped at clothing mall Dress-Smart.
The clamping started over the holiday period before the company was registered, but no warning signs were put up.
At least two of the five businesses pulled out after complaints the clampers were "intimidating" and "officious".
The registered directors of the company did not comment, but landowners and lessees are entitled to clamp people parking on their property.
The five businesses behind the scheme were Arthur's Bar and Grill, Hedgehog Bikes, Fruit Town, Premium Liquor and the TAB.
One shopper said she left her car for five minutes on January 5 and returned to find it clamped. She said the clampers were aggressive and unhelpful: "The clampers appear to sit in (Arthur's) bar and wait until the vehicle owner has left the carpark."
Another man visited the bike shop on the same day, only to find it closed. "So I wandered down the road ... upon my return I had to pay $150 cash to get my car released."
He said the clampers were disrespectful, rude and intimidating: "There was no signage or warnings."
A video shop worker said one of his customers complained he had been charged $300 by the clampers. After telling them he was a regular TAB customer the charge dropped to $250.
Katoas & Clamps was registered as a company on January 19. Its directors are Kerry Eustace and Christopher Roberts. Roberts owns a house with Heather Brown in Papakura. Brown is a manager of Arthur's Bar.
Onehunga community constable Don Allan said about 30 people complained to police over the holiday period. "The people who were clamped would have a good civil case against the company because of the inadequate signage," he said. "The clampers were demanding cash up front and some people complained that they felt intimidated."
The police called a meeting between the company directors and a representative of NZ Wheel Clamping.
NZ Wheel Clamping director Gordon Ward said the clampers were negotiating fines. He saw two men wearing hi-visibility vests at the pub waiting for people to leave their cars.
"They had no uniform, no identification, no registered company, no receipts. They made a lot of money. It was a totally cowboy off-the-cuff operation."
He encouraged anyone who had been clamped to go to the Disputes Tribunal.
Warning signs were put up around the time the company was registered, but have since been taken down, apparently because the clampers have stopped operating.
Hedgehog Bikes manager Chris Tuckey disagreed with their methods: "We are no longer clamping cars or using Katoas & Clamps because it caused too many arguments."
TAB manager Pauline Saunders said the manager of Arthur's Bar asked her to sign the contract just before Christmas. The TAB pulled out because the clampers were too "officious".
Eustace refused to comment. Roberts could not be reached for comment.
Brown referred questions to her boss John Lambie who did not return messages.
Rights on clamping hazy
So what are your rights if you get clamped?
Joanne Kearney, a senior adviser at the Ministry of Consumer Affairs, said the law was unclear.
"Under the Fair Trading Act there is a clause against using harassment or coercion in the provision of a service. So people could make a complaint to the Commerce Commission.
"If the consumers were coerced into paying money they could go to the Disputes Tribunal to claim that money back," she said.
The lack of warning signs was not the key issue.
"It can be argued from a civil law perspective that clamping is a form of trespass. While the lessees of the carpark can claim back any costs incurred from people parking there, it is questionable whether they have any right to interfere with their property unless it is causing a nuisance or damage."