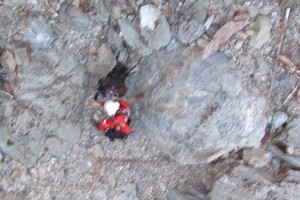 Lost for five cold nights with no food, a gash to his arm and barely able to see, James Esbester felt that his hopes of rescue were dwindling.
The 30-year-old English tourist went into the Upper South Island's Kahurangi National Park last Thursday with the intention of doing a half-day climb up Mt Luna.
But he went down the mountain the wrong way and became disoriented in rugged terrain.
"I had taken a half-day's worth of snacks, really, which was mostly gone by the time I was heading down the mountain. So for the next five days I didn't eat," he said yesterday after his ordeal.
Mr Esbester set up a shelter in the bed of the Crow River, made the word "HELP" on the ground with sticks, and waited and hoped someone would see a note he had left, along with his gear, at a hut.
"Fortunately some people did."
On Tuesday night, as he was settling in for his third "sleepless night" in the same spot, a helicopter flew over.
Mr Esbester felt "relief like you can't imagine. I can't really put it into words I don't think."
Trampers who read Mr Esbester's note raised the alarm on Saturday, triggering a search involving up to 100 people. Police yesterday praised him for leaving a note about his intentions, but said he could have taken a global positioning system (GPS) unit or personal locator beacon with him.
Despite the lack of food, Mr Esbester was "more tired than hungry".
"My stomach didn't ache or anything like that, but it was becoming more and more of an effort to get around. Especially as I had gone up the mountain wearing contact lenses - of course after a couple of days I really had to get rid of them, so beyond that I couldn't see very well, either.
"I was following a river so I had plenty of water at least."
Mr Esbester came out of the ordeal with only mild hypothermia and the injury to his arm.
"I slipped a little down a hillside and actually cut open my arm, which looked fairly messy. So I decided to stop and check that out and make sure I hadn't seriously damaged myself. I put a tourniquet around [it] and fortunately it all cleaned up fairly nicely."
Mr Esbester said he owed his life to his rescuers and those who reported him missing.