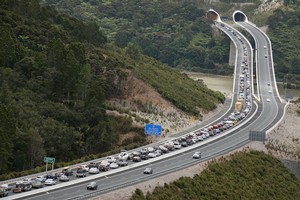 Transport chiefs have been accused of failing to get tough on serial offenders who refuse to pay for using the Northern Gateway toll road.
In the two years since it opened, the worst has stacked up almost $1050 in tolls and fines and the top 10 a combined $6666.
One person with two cars owes more than $700, according to information released under the Official Information Act.
The New Zealand Transport Agency (NZTA) has not referred a single driver to the courts, preferring to rely on warning letters and debt collection agencies.
Spokesman Ewart Barnsley said it tried to avoid infringement notices and court action because of the costs involved. "The NZTA has not yet taken court action to pursue unpaid tolls. We will look to do so in the months ahead for some outstanding tolls not able to be collected by other means," he said.
Its decision to use debt collection agencies instead has drawn strong criticism from the AA.
Auckland spokesman Simon Lambourne said the failure to prosecute was "completely unacceptable".
"It makes a mockery of the system and it sends the wrong message to all those who are paying.
"It is damaging to the Northern Gateway and it is putting at risk future roading projects."
The NZTA must repay a 35-year loan of $159 million towards the cost of building the $356 million road between Orewa and Puhoi.
Drivers have paid more than $20 million in tolls since it opened in January 2009. The cost is $2 for cars, motorbikes and light commercial vehicles and twice that for heavy commercial vehicles. Barnsley said letters had been sent to the worst offenders telling them to pay or face a $40 fine for each unpaid trip. He said 36 per cent of toll debt had been collected by a debt collection agency and fewer people were avoiding the tolls - 3.7 per cent in December, down from 5 per cent in November.
An upgrade of the NZTA national computer system would allow it to file infringement notices electronically, with unpaid bills referred to court. But Lambourne said the NZTA was "protecting itself" against criticism of its payment process.
He said it was difficult to pay a toll because kiosk facilities were inadequate and online and phone payment options were not user-friendly. "There are not enough kiosks and this causes congestion when people have to get out of their cars, queue up and pay," he said.
There are two sets of kiosks, one at the service station on the northbound side of State Highway 1 at Silverdale and one on the southbound side at Puhoi.
Barnsley said the NZTA encouraged motorists to pay before or after their journey. The payment period had been extended to five days.
Drivers could buy multiple trips or open an account.
People could pay using freephone 0800 402020 or online at www.tollroad.govt.nz.
"If they do prefer to use the kiosks, we have made changes to the machines so that there are fewer steps in the payment process.
"The risk is, however, that you may have to wait in a queue until it's your turn to pay."
- Joanne Carroll
* * *
Honest drivers annoyed
Motorists the Northern Gateway this week were disappointed that people who haven't paid aren't being taken to court.
Jason Morunga, a driver from Whangarei, said the toll road was meant to save time - but he'd spent 20 minutes waiting to pay.
"We're taking the free road next time."
He said it was "ridiculous" that people who didn't pay weren't being pursued through the courts.
Barbara Bicknell, a company director who spends nine months of the year in Florida and the other three in Northland, said the system was a nuisance.
"We always cause a [queue] because we can't figure out how to operate the machine.
"It's better to have a tollbooth that you drive through and throw some coins in. That way it's fair on everyone."
Robin Jones, a recruitment consultant visiting from Wales, said the toll was no big hassle.
"It's a lot cheaper than driving into Wales."
But he said it was too easy to miss the kiosks. "We forgot to pay last week. You should have to pass through a gate."
- Celeste Gorrell Anstiss