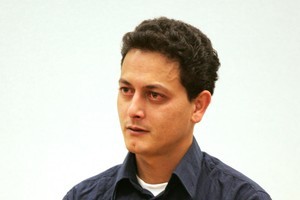 A man who drove off a 150m Mt Wellington slope, killing his 9-year-old daughter, has been found guilty of a separate road rage incident.
Garth Duwayne Abbott was sentenced to four-and-a-half years in prison for the manslaughter of his daughter in 2007.
His two daughters were not wearing seat belts and were flung from his 4WD. Britney was killed instantly while Shirvaun, then 4 years old, was seriously injured.
On parole in September last year, Abbott was involved in a road rage incident.
He was convicted of assault and a traffic offence at a defended hearing in the Auckland District Court yesterday.
The incident happened at the intersection of Banks Rd and Boakes Rd in Mt Wellington, with Abbott's daughter in the front passenger seat.
Edna Frank was driving her two sons to church and told the court she stopped at the intersection.
She said Abbott stopped his car at a right angle to hers and blocked her in.
She said Abbott got out and began screaming at her. He told her: "I will smash you," the court heard.
She said Abbott leaned through her window and tried to grab her keys. She said when he couldn't get the car keys, he went for the gear stick.
Abbott then got back into his car but witnesses said he drove 10m before reversing back to Mrs Frank and blocking her car again.
"I was shaking and I felt scared," Mrs Frank said.
Her 12-year-old son, Rolf, told the court his mother's car may have crossed the line when Abbott got angry.
Rolf said he heard Abbott's daughter screaming in the car, saying: "Stop it, Daddy, stop it."
He said Abbott made as if to kick the car but did not carry through.
Two witnesses confirmed seeing Abbott being abusive. Melissa Sowden said she saw the top half of Abbott's body reaching inside Mrs Frank's car.
She said Mrs Frank took 15 minutes to compose herself after the abuse.
Abbott denied threatening Mrs Frank but only warned her that she could injure her children if she drove badly.
He said he was almost side-swiped by Mrs Frank.
"I shouted: 'Look what you bloody did'," he said.
He denied leaning through the window to grab the keys or wrestle for the gear stick.
"The only time any part of my body entered her window was when I was pointing at her kids and saying: 'You need to be aware your driving could injure your kids'," Mr Abbott said.
He said Mrs Frank used racially abusive language at him.
Mrs Frank denied the claim.
Judge Phil Gittos said he found Mrs Frank and her son to be "credible and reliable".
"I am satisfied the accused did abuse and threaten Mrs Frank," Judge Gittos said.
He ordered Abbott to pay a $500 fine for the assault and a $300 fine for operating a vehicle without consideration of others using the road.