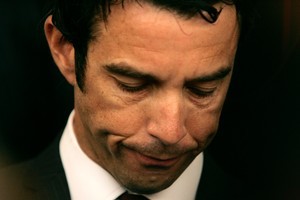 Prime Minister John Key has defended appearing in a weekly radio spot with controversial broadcaster Tony Veitch.
Mr Key previously appeared regularly on the Friday morning Radio Sport breakfast show segment with D'Arcy Waldegrave, who took over the show in 2009 when Veitch was convicted of the violent assault of his former partner Kristin Dunne-Powell.
However, questions have been raised about the appropriateness of Mr Key continuing the slot with Veitch, who was eventually reinstated to the job.
Mr Key sparked controversy in a recent interview with Veitch when he named a number of female celebrities he would have on his "wishlist" and called Liz Hurley "hot", which international media labelled sexist.
Speaking at a post-cabinet press conference today, Mr Key said he could not control who the host of the show was.
"I engage with a lot of journalists, some of them have history and some of them don't, that's not my concern. My concern is to make sure I represent the views I want to represent on those shows."
Mr Key said he was not concerned that appearing on the show might be seen as contradictory to the Govenment's anti-domestic violence campaign.
"He's a guy that's clearly made mistakes, and, in the end, hopefully he's learned his lessons from those. "There'll be lots of journalists that have done things wrong in their lives."
He did not resile from the comments he made about Hurley.
- NZPA