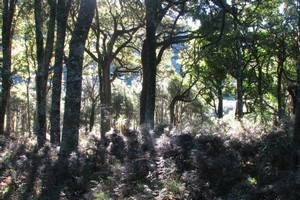 New Zealand's forest ecosystems are the second most threatened in the world and house only 5 per cent of their original habitat, according to an international report.
In figures released by Conservation International, New Zealand's forests are placed only behind Indo-Burma as the most at-risk forest ecosystem in the world.
The world's 10 most threatened forest regions have all lost at least 90 per cent of their original habitat, and are home to at least 1500 plants which are not found anywhere else.
New Zealand's forests were home to 5 per cent of its endemic species, Conservation International said.
"Forests must be seen as more than just a group of trees. Forests give us vital benefits," Conservation International policy chief Olivier Langrand said.
Invasive species, such as rats, stoats and possums, posed the most serious threat to the flora and fauna of New Zealand, Conservation International said.
The Green Party said the report drew attention to the fact New Zealand was failing to protect its most precious plants and animals from possible extinction.
"National's $54 million cut to the Department of Conservation's budget was a reckless gamble with the conservation estate, given the extreme level of threats our plants and animals face," Green Party conservation spokesman Kevin Hague said.
"If we love our unique spaces and the plants and animals that live there, we'll need to re-prioritise the way we spend our money."
He said he planned to introduce a Member's Bill into the House to place complete protection over native plants and animals, since many species still remained unprotected.
The 10 most at risk forests in the world are, in order; Indo-Burma, with 5 per cent of its remaining habitat, New Zealand 7 per cent, Sundaland (southeast Asia) 7 per cent, Philippines 7 per cent, Atlantic Forest 8 per cent, Mountains of Southwest China 8 per cent, California Floristic Province 10 per cent, Coastal Forests of Eastern Africa 10 per cent, Madagascar & Indian Ocean Islands 10 per cent, and Eastern Afromontane (Africa) 11 per cent.
Conservation International is a non-profit organisation dedicated to protecting the Earth's ecosystems and biodiversity.
- NZPA