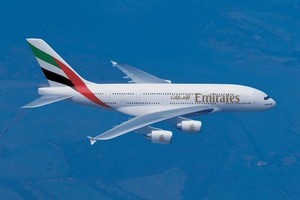 Passengers on a flight which landed in Auckland from Brisbane on January 11 may have been exposed to measles, the Auckland Regional Public Health Service (ARPHS) warns.
Three people on Emirates Flight EK434, which arrived in Auckland at 5.30pm, had infectious measles during the flight, ARPHS medical officer of health Dr Cathy Pikholz said.
The affected passengers had been part of a group who travelled to the Philippines and Singapore.
"Measles is easily spread through the air, and people sitting in a row close to an affected passenger are potentially at risk," she said.
"Even people sitting further away could have been infected, for example, while walking past the passengers with measles, or while waiting in the airport gate lounge."
Any passenger experiencing symptoms should call their doctor or Healthline on 0800 611-116, Dr Pikholz said.
"People should not go directly to a doctor's office or to an emergency department, because if they do have measles they might infect other people."
Symptoms started as a fever, runny nose and sore red eyes, then a rash develops after a few days.
"Measles is a serious illness and one in ten people with measles need hospital treatment. Measles is infectious before the rash appears," Dr Pikholz said.
- NZPA