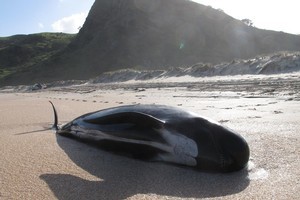 Department of Conservation (DOC) staff have killed 10 pilot whales which survived the stranding of a pod of 24 in Parengarenga harbour in the Far North.
"If we felt there was a real chance we could have successfully rescued them, we would have," DOC area manager Jonathan Maxwell said.
"Sadly, the current conditions were against these animals. The kindest thing was to end their suffering".
Mr Maxwell said the pod were spread over 150 metres in mud, rocks and mangroves and had been trapped in the shallow water and mud for some time. The surviving 10 were in poor shape.
"High tide isn't until 11pm tonight, and we have deteriorating weather conditions around the coast," Mr Maxwell said.
"This meant the chance of successfully refloating the whales was virtually nil".
The difficult decision was made to euthanase the whales.
Pilot whales travel in pods made up family groups and when one of them strands, others will follow to try to help and become stranded themselves. The reasons for whale strandings are not conclusive but include sickness and disorientation.
Pilot whales are the most common species of whale seen in New Zealand waters, and are commonly between 4m-6m in length. They move in large pods, and in the past there have been up to 400 pilot whales stranded at one time in the Chatham Islands.
- NZPA