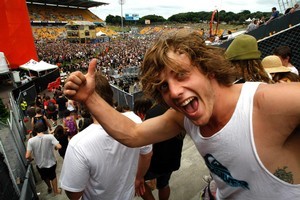 The Big Day Out (BDO) in Auckland is in full swing with more than 40,000 revellers pouring into Mt Smart Stadium to see the likes of Iggy and the Stooges, Tool and Deftones.
BDO spokesman Paul McKessar said the warm, overcast weather provided perfect conditions for the day-long event and the rain had so far stayed away.
Ambulance staff had treated 268 patients by 3.15pm, mostly for dehydration and minor cuts and bruises, and four had been taken to hospital.
As of 2pm, police had made no arrests.
Mr McKessar said the revamped venue, including a new open air boiler room tent, meant crowds would be less cramped and sweaty when the likes of MIA took to the stage later in the evening.
- NZPA