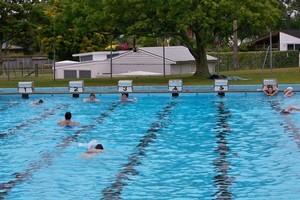 Free entry for children and the elderly, or free swimming lessons, could be among options to emerge from a feasibility study on extending Manukau's free-swimming-pools policy to the whole city, says Deputy Mayor Penny Hulse.
Mrs Hulse yesterday backed Mayor Len Brown's decision to commission a report on the cost, equity and fairness of making all Auckland's 23 council-owned pools free.
Citizens & Ratepayers co-leader Christine Fletcher and Orakei councillor Cameron Brewer have questioned the wisdom of commissioning the report, and reader feedback to the Herald suggests Mr Brown will have an uphill battle selling the as-yet-uncosted scheme.
Last year, 1.8 million people used Manukau's six free pools at a cost to ratepayers of $6.76 million, or $3.76 a visit.
Adults pay between $3.10 and $7.80 at other council-owned pools, and up to $25 for a family.
Some readers supported Mr Brown's view that there was an "overwhelming sentiment" to extend Manukau's policy to the whole city, but the majority believed the cost was too much, and there should be some element of user-pays for the already subsidised service. Some readers supported free entry or lower charges for children.
Mrs Hulse said if the council could not afford to make all the pools free, then maybe it could target groups, such as children or the elderly, and swimming lessons. Water safety was most important.
Watersafe Auckland business manager Teresa Stanley applauded the study into free pools, particularly if it improved swimming lessons for schoolchildren.
The best way to teach children to learn to swim, according to Ministry of Education guidelines, was progressing from dry-land teaching, to practising in a pool, moving to flat water in the natural environment and finally to moving water in the natural environment, she said.
She rejected comments by Mr Brewer that Auckland had plenty of safe inner-harbour beaches for free swimming over summer, saying that would see the development of swimming schools begin at the third level of the guidelines.
Papakura councillor Calum Penrose said he would support the feasibility study if it was done in-house, but remained unconvinced about extending free pools across the city.
He supported low charges, such as the $3.10 for adults and $1.10 for children at the Massey Park Aquatic Centre in Papakura. The former Papakura mayor said the pool was subsidised at a cost of about $800,000.