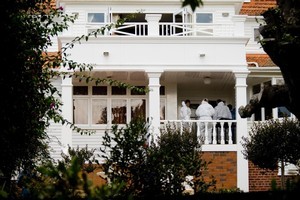 A man accused of murdering two people at a multimillion-dollar Auckland mansion had several civil court claims filed against him, including one for more than $200,000.
The 52-year-old unemployed Chinese man appeared in the Auckland District Court on Saturday charged with stabbing the two men to death at his Mt Albert home.
One of the dead men was found lying in the driveway of the Stilwell Rd property. The other was reportedly on the floor just inside the house.
The accused was granted name suppression until his second appearance, scheduled for this morning, so he could tell his children of the charges.
The Herald has learned process servers made several visits to the Stilwell Rd mansion, which is owned by the accused's wife, who moved back to China after they separated last year.
One said he had served the couple with court documents relating to civil court proceedings at least five times.
"I certainly served them quite a few times," he said.
In October 2009 he delivered the couple a summary judgment from the High Court at Auckland.
"They reneged on a property deal and the owners of the property were trying to sue them. He was always all right about it [being served], there was no problem.
"He'd just have a look and disregard it and I'd leave."
The identities of the dead men have also been suppressed. On court documents they are identified only by first names.
It is understood police may still be trying to inform their families, who may not be in New Zealand.
Meanwhile, a woman reportedly at the house when the two men were killed is said to be traumatised by what she saw.
The woman called police and yelled for neighbours to do the same just after 11am on Friday.
Her sister told the Herald she was "not doing very well".
"She's not very good. We are just very worried about her."
She said the woman had told her what happened at the house, but she was reluctant to share details.