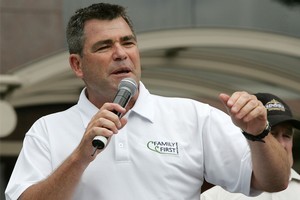 McDonald's is under pressure to change the internet access policies at its restaurants because gay websites are not accessible.
The fast-food chain offers customers free WiFi access in 132 of its outlets nationwide.
The service has come under fire after members of the gay community complained that some restaurants - including one in Wellington - could not access various websites, including gaynz.com, because McDonald's had them blocked.
Other blocked websites include familyplanning.org.nz, nzdating.com and rainbowyouth.org.nz, the site for an organisation for young gays.
Members of the homosexual community have slammed firm's policies, calling them discriminatory.
A forum has been set up on the gaynz.com website, where dozens of people have already vented their anger.
One woman said: "Now is this serious and blatant discrimination or is it because gay being a key word may lead to porn sites?"
Another blogger said: "I don't support McD's censorship even if I understand their commercial wish to fit a family-friendly profile."
Moderators of the website also posted their views, saying the site had moderators to make sure nothing inappropriate was put up.
The complaints have led to the chain saying it would review the blocked sites on "a case by case" basis.
However, it did maintain that the sole purpose of blocking such sites was to uphold the restaurant's image of it being a family restaurant chain.
A spokesman for McDonald's told 3 News: "We're a family restaurant chain and as a part of offering this new service, our policy is that viewed content must be of a family-friendly nature - suitable for a child to view."
Family First director Bob McCoskrie last night applauded McDonald's actions and encouraged the restaurant to continue blocking such sites.
Mr McCoskrie said the issue was not about a certain group being discriminated against.
"It is about the content and material which is adult-rated [and therefore] should be blocked in a public setting like McDonald's ... and McDonald's are to be congratulated for putting families first.
"Some of the websites which they have blocked have been blocked for a good reason.
"People desperate to access this material will have to do it in a private setting through their own [internet] server."
- additional reporting: NZPA