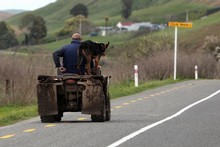 A quad bike accident which claimed the life of a 21-year-old Filipino beekeeper has prompted a coroner to call for the Government to immediately investigate making the wearing of helmets compulsory and tightening other safety regulations.
Jody Dean Santos, of Masterton, died from a massive skull fracture days after he was "catapulted" off a quad bike he was riding at work in August 2008, Wellington Coroner Ian Smith found.
Mr Smith's findings were released today.
On the day of his death, Mr Santos, who had been working for beekeeping firm PA and SC Steens Ltd for just two weeks, and two other employees went to a Masterton farm to service some beehives.
One of the workers had to ride a quad bike and Mr Santos told the unit hive manager he had experience riding motorcycles and demonstrated by driving a quad bike.
Mr Santos then drove the bike to the hives, while his co-workers travelled in a truck.
After finishing, the workers in the truck returned to the farm but Mr Santos didn't.
He was found lying on the ground near the farm entrance - the quad bike was overturned nearby.
Police told the coroner weather conditions were clear and the road surface dry and maintained but the bike did not have a warrant of fitness and a mechanical inspection revealed worn steering and front suspension.
A vehicle inspector said although the bike seemed safe for use on a farm, its handling might have been compromised by high speed on hard terrain.
A witness told police they had seen Mr Santos driving without a helmet at an estimated speed of about 80km/h.
Police told the court Mr Santos lost control of the bike as he attempted to turn into the farm drive and the vehicle rolled, "catapulting" him onto the road.
A health and safety inspector said, under the Health and Safety Act, it was "unequivocal and unambiguous" that an employer must take all practical steps to make sure staff wore helmets when necessary.
However there was an exception - if workers were travelling at a speed lower than 30km/h on the road to travel from one part of the farm to another or to an adjoining farm.
Summing up, Mr Smith said accidents involving quad bikes had concerned coroners for a long time.
From January 1, 2000, to July 21, 2010, 122 people had been killed in incidents involving quad bikes.
Mr Smith said he was frustrated by the failure of authorities to take up the recommendations coroners "consistently" made.
He recommended the Labour and Transport ministers undertake an immediate investigation to consider the mandatory use of helmets, roll bars and lap belts on all quad bikes.
Mr Santos' employer was earlier convicted and fined $78,000 and ordered to pay reparation of $60,000 to Mr Santos' family under the Health and Safety Act.
Since the accident the company had taken steps to ensure the safety of staff riding quad bikes following the accident.
- NZPA
By Amelia Langford of NZPA