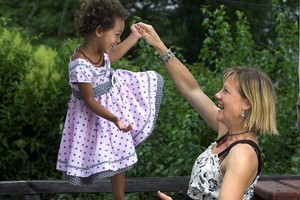 A year since Emily Sanson-Rejouis lost her husband and two of her daughters in the Haitian earthquake, the Nelson woman says time is not proving to be a great healer.
"It's not something I find that gets easier as time passes.
"In fact, I'm living with the reality more and more, and that's really hard," she told the Herald.
"I think it felt surreal to start with. There was so much to take in, and it was such an enormous shock, that I was just getting through each day because I had to."
Thursday will mark the first anniversary of the magnitude-7 quake that killed more than 220,000 people in Haiti, including Mrs Sanson-Rejouis' husband, Emmanuel, 39, and her daughters Kofie-Jade, 5, and Zenzie, 3.
Her youngest daughter, Alyahna, 2, survived thanks first to being protected by her father, then by her mother helping to dig her out of the rubble of their apartment building in the Haitian capital of Port-au-Prince, where the couple were doing humanitarian work.
"Now I'm realising that actually I have to start taking decisions - and I'm more in a position to take decisions - but those decisions are really hard because they now relate to the future of Alyahna and me in a way I never envisaged."
Mrs Sanson-Rejouis has moments every day where she feels overwhelmed and exhausted, but when she looks at Alyahna she snaps out of it.
Alyahna is doing well and enjoying life, but is increasingly asking for her papa.
"And that I find really, really difficult," Mrs Sanson-Rejouis said.
"I think she is starting to understand [the situation] as her friends at school have dads and sisters and brothers and they talk about them."
Still reeling from the huge loss of life and devastation from the quake, Haiti has also been plagued with a hurricane, deadly disease outbreaks and election violence.
Mrs Sanson-Rejouis, who also helped free two others trapped in the rubble after the quake, has set up a foundation to help provide education for the children in her husband's country of birth.
She is planning to travel there with a team of builders and health professionals in April.
She hopes to meet the pair she helped to rescue, and fellow rescuers.
"I don't want to just be an observer. I actually want to do something tangible ... in rebuilding a school.
"I can't turn away from [Haiti]," Mrs Sanson-Rejouis said. "I felt compelled to help other people who had suffered in the earthquake...because I came back to New Zealand and I had an immense amount of support.
"I had an ability to actually go forward, in a way that the majority of people in Haiti don't.
"They don't have somebody to help them out. They don't have a safe haven."
To make donations or for more information, visit www.kenbelafoundation.org