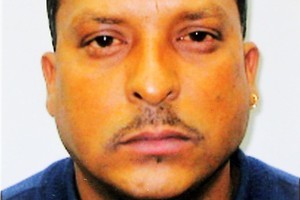 Friends of the man killed in a Christmas hit-and-run accident have created a Facebook page in an effort to find the driver.
Vineshwar Singh was hit by a car just metres from his home as he crossed the road shortly before midnight on Christmas Eve. The driver did not stop.
Mr Singh died about 15 minutes later at 12.05am on Christmas morning.
Police are looking for the driver who killed the 40-year-old father of two in Helvetia Rd in Pukekohe.
The Facebook page was createdby Sharneet Singh, a nephew of Mr Singh. He hopes the page will raise public awareness of the death and help police to find the driver.
A posting on the page reads: "Let's help bring the people responsible to justice."
Detective Senior Sergeant Wayne Lendrum said there were a number of witnesses to the crash, most of whom describe a white car, possibly a Nissan Skyline.
He appealed for the driver, any passengers or anyone knowing anything about the crash to contact police.
He said the car was likely to have damage to its front left side.
* Anyone with information can contact Mr Lendrum at the Papakura police station on (09) 295 0200.