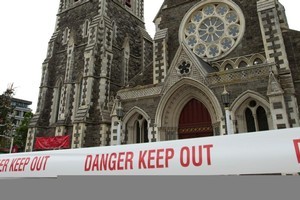 As engineers continue to assess the damage caused by the latest swarm of aftershocks to hit Christchurch, it has been revealed that shaking in the central city caused by the biggest tremor exceeded the devastating September 4 quake.
The largest aftershock measuring magnitude 4.9 shook the city at 10.30am on Sunday, causing Boxing Day shoppers to flee as bricks and mortar crashed from buildings. Around two dozen aftershocks were felt within the space of 36 hours.
GNS Science strong motion sensors showed that peak ground movements - from side to side or up and down - during Sunday's quake reached 48 per cent of the acceleration of gravity at the Christchurch Botanic Gardens, the Press reported.
This compares with the shaking recorded during the magnitude 7.1 quake on September 4, where peak ground acceleration levels recorded in the cental city reached between 15 and 20 per cent.
GNS Science manager Ken Gledhill said the reason there had been more damage in the September 4 quake was because the shaking lasted longer.
The Boxing Day day quake could have been a magnitude 5.0 as errors in measurements were possible, he said.
Meanwhile, a cordon remains in place in Cashel St Mall as engineers continue to assess damage in the central city area.
Deputy Mayor Ngaire Button said the council was working hard to reopen the area.
"It depends on business owners and building owners and how quickly they can get their engineers in and do the remediation work that is required," she said.
Inspectors have checked more than 3000 of 5000 buildings within the "four avenues" that surround the centre of the city and have so far identified 115 buildings in need of remedial work.
The aftershocks came at a bad time for retailers.
According to Paymark figures, the volume of electronic transactions was down 10.7 per cent in Christchurch on last year. This compares with nationwide figures which were down 6.7 per cent.
The poor sales have prompted business leaders to call for a Boxing Day "replay" once the dust settles on the latest aftershocks.
- NZPA