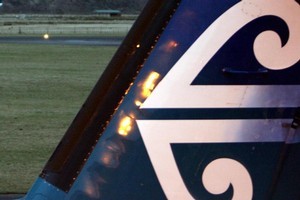 Is there no limit to this country's prissiness?
Air New Zealand's in-flight safety video had enough naughtiness and humour to ensure passengers watched, then kill-joys from the so-called gay community complained and had one scene removed.
The offensive moment was All Black Richard Kahui feigning homophobia by declining to kiss genuinely gay male flight attendant Will Coxhead on the cheek.
Some soft professor, apparently, reckons this might kick off a round of gay suicides.
How quickly the oppressed become the oppressors.
Prior to 1986, when the Homosexual Law Reform Bill was passed, we lived in dark days. It was hideous for consenting male adults to risk criminal prosecution for doing what heterosexuals were able to do legally.
But then we got into all this anti-discrimination nonsense. We agree the law should come down heavily on anyone who beats up gays, straights or in-betweens, but it's impossible to control what goes on inside people's heads.
I don't know why we still have to tread on eggshells when it comes to gays, why some pull the victim card. MP Chris Carter set a bad example, whinging that he was picked on by media just because he was gay.
The safety video also shows a female attendant fainting, needing the oxygen mask when Richie McCaw walks past. Will the feminists complain? Or gay women, who aren't represented here?
I'm surprised the self-appointed guardians of the nation's morality haven't reared up on their hind legs over the disgraceful conduct at the end of the video, where an elderly woman removes her clothes and runs down the aisle? Surely room for the prissy community to complain here? This shameless display of wrinkly naked flesh might lead to geriatric suicides.
I'd like to know just where this "gay community" is located, which speaks with one voice?
But really, I despair. New Zealanders once were a robust and muscular lot, but we've passed so much legislation banning lookism (can't hire someone based on their attractiveness, slimness), ageism, sexism - and all the isms - we're in danger of drowning in a vanilla-flavoured lake of politeness. When was the last time your dinner party ended in a raging political debate, with threatened fisti-cuffs between guests, and a woman weeping into the panna cotta?
These days the entire population is so pathetic, it seems, we get into a lather over relatively minor matters such as Paul Henry's foot-in-mouth disease on television. We're so bland, we're startled into moral outrage by the juvenile antics of a television host.
Henry's outburst was hardly a federal case. No one died. But we weren't happy until he resigned. Did that make our lives - or the country - any better?
Yet when people stuff up the recovery period is so quick. Look at MPs' pratfalls - can you really remember what Shane Jones did wrong? Oh yes, watched raunchy videos. It all seems so trivial now.
Who is responsible for this newly-insipid society? You could start with the education system, where competition's a dirty word, winners and losers are banned, all must have prizes. Where principals shun national standards because one school might be shown to be better than another, and teachers are too obtuse to educate students beyond calling them failures.
Last month I was amused to be included in Deborah Hill Cone's column as one of the "rag-taggle eccentric libertarian, Act-type coves" who washed up at Antoine's restaurant to launch Lindsay Perigo's new television programme. Actoids and libertarians would clutch garlic and crucifixes if I gatecrashed their functions these days.
But the Perigo Show on Sky (starting March) could be a drought-breaker, because he promises viewers will want to either shoot him or shake his hand. Prissy people should not watch. Feelings will be hurt. Complaints will be made.
It's considered impolite to hurt anyone's feelings nowadays. Bollocks. It's not healthy to go through life without having your feelings trampled all over. Physical force is a definite no-no (unless in self-defence), but learning to deal with hurt pride, bruised ego and falls from grace is what separates wimps from heroes.
But right now, this country looks very much like a Santa-sack full of wimps.