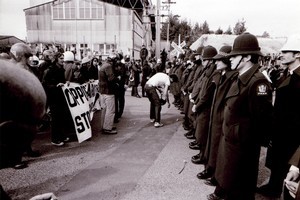 Tom Newnham, who was prominent in the fight to stop the Springbok rugby team playing in New Zealand in 1981 as part of the global battle against apartheid, has died in Auckland. He was 84.
He died in Auckland on Wednesday after a long illness.
"He dared to differ and made a difference," his death notice said today.
Mr Newnham was arrested several times during the 1981 Springbok tour. Many observers believe the opposition in New Zealand to the tour played a significant part in the dismantling of the apartheid system in South Africa.
He spoke Cantonese and Mandarin after living in China and in 1992 wrote a book The Life of Kathleen Hall about the New Zealand missionary nurse who worked in China in the 1930s.
He was awarded the Queen's Service Order in 1988.
Mr Newnham was an outstanding New Zealander whose impact stretched from New Zealand to South Africa, China and the United Nations, said Race Relations Commissioner Joris de Bres.
"Tom was a great educationalist, a prolific writer and a tireless campaigner for race relations and human rights over the past 50 years," said Mr de Bres.
He was secretary of the Citizens Association for Racial Equality (Care) for seven years but also battled for other race relations and human rights issues, including prison and court reform, Maori language promotion, Maori land rights, the treatment of Pacific overstayers, tenancy rights, and Maori and Pacific educational achievement.
His funeral is to be held in Mt Eden on Tuesday before burial at Wellsford, north of Auckland.
- NZPA