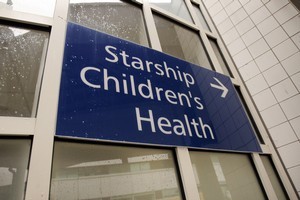 The economic recession has directly impacted on children's health, with 2000 more children admitted to hospital last year compared to 2007 and low-income families particularly at risk, a report released today has found.
The Children's Social Health Monitor is a set of indicators developed by organisations working with children to monitor the impact of the current economic downturn on child well-being.
Now in its second year, the monitor will be updated annually, until the economic environment in which New Zealand children are living improves appreciably.
Associate Professor Cindy Kiro, head of the school of public health at Massey University in Auckland, said the economic recession had reversed many of the gains made during the 2000s.
She said there was "a range of worrying trends", particularly for children under four years old, Maori and Pacifika children and children of sole parents and beneficiaries.
"Sixty per cent of those below the poverty line are children. That's the really important point, people don't understand that," Ms Kiro said.
While the number of children admitted to hospital for accidents had decreased in the past decade, admissions for medical conditions had increased markedly, this year's update found.
Last year were around 2000 extra hospital admissions mainly for infectious and respiratory diseases compared with 2007. Maori and Pacifica children were consistently higher in these figures that Pakeha and Asian children.
Dr Elizabeth Craig, director of the New Zealand Child and Youth Epidemiology Service, said the number of children living in families dependent on the DPB and unemployment benefit recipients had also increased.
However because of the anonymous nature of the data used, it is not possible to prove any direct causal links between rising unemployment, increases in the number of children reliant on benefit recipients, and increasing hospital admissions for socioeconomically sensitive medical conditions.
Children's Commissioner John Angus said the report revealed real concerns in some aspect of child well-being.
"There are signs the recession is having a negative impact on children and young people. This can be seen in the increased youth unemployment rate and growing number of children living in households in receipt of the DPB or unemployment benefit. At April 2010, 20 per cent of children were living in such a household."
There was evidence that increased hospital admissions - particularly for Maori and Pacific Island children - were associated with poor housing and economic hardship, he said.
"It's worrying that the improvements in the health status of Maori and Pacific Island children up to 2007 have turned around. More are ending up in hospital with respiratory conditions, which is a serious concern.
"New Zealand children bore the brunt of the recession in the late 80s and early 90s. They are also the age group most likely to end up in poverty or economic hardship. It would be a tragedy if the recent recession caused the current generation of children to suffer in the same way."
While the report is not a policy document so does not make recommendations, Ms Kiro said conclusions could be drawn from it.
"It does reinforce there is a strong gradient that these children growing up reliant on a benefit experience significant hardship and higher hospital admissions."
Ms Kiro said 78 per cent of those on a benefit experience "hardship" as defined by the Ministry of Economic Development.
"When we look at that we can see those families that are living on an income that is not adequate to raise children and there are significant consequences from that."
- With NZPA