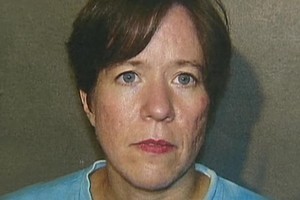 A former Auckland University student will have to serve 13 years in an American jail after pleading guilty to attacking a 35-weeks pregnant woman with a Taser in the United States
Christine Renee Devaux, 39, used a Taser stungun in June to shock a pregnant woman in the abdomen at Damascus, about 65km northwest of Washington DC.
In 2004, she moved to New Zealand and worked for Standards NZ as its general manager of customer relations, then in 2006 enrolled in Auckland's medical school as a 33-year-old mature student with a permanent residency visa.
After suffering head injuries when she went to Canada on a cycling holiday in November 2009, she remained in the United States after deferring her medical studies for 2010.
Police had initially charged Devaux with attempted first-degree murder and false imprisonment, but Devaux pleaded guilty to first degree burglary and first degree assault.
A spokesman for the Montgomery County State's Attorney, Seth Tucker, said the maximum penalty for the two crimes was 45 years, but Devaux cut a deal with prosecutors to receive a sentence of 13 years.
Following her release from jail, Devaux will be on probation for up to five years. If she violates her probation, a judge could send her back to jail to serve the remainder of the 45 years, Mr Tucker said.
Devaux will be back in court for a formal sentencing on May 10.
She has been held without bail in the Montgomery County Correctional Facility in Clarksburg since her arrest at a motel hours after the June 4 attack.
Devaux was described in court as the on-again, off-again girlfriend of Bruce Mattson, the father-in-law of the victim, Lynae Mattson, 30.
Deputy States Attorney John Maloney speculated that the student considered the victim, her unborn child and husband a threat to her relationship.
The woman, who was over 35 weeks pregnant, returned to her house and found white plastic bags on the kitchen floor and Devaux wearing her navy blue sweatshirt, a surgical cap and gloves.
Earlier court documents said the victim begged for her life (and the life of her baby), with Devaux responding, "I never wanted it to come to this."
Devaux shocked the victim many times with a Taser, but the pregnant woman was able to break free and run to a neighbour's house.
Defence lawyer Barry Helfand told reporters he believed the assault was "a bizarre attempt to try to - in her state of mind - talk to this victim and try to make peace [within the family]".
Devaux has a graduate degree in economics from George Washington University. She worked at the United States' national institute of standards and technology as a standards specialist from 1997 to 2004, before moving to New Zealand.
The victim's family declined to comment on the plea bargain, but was overheard telling a courtroom observer that, despite the 30-minute attack, the baby's health was fine.
- NZPA