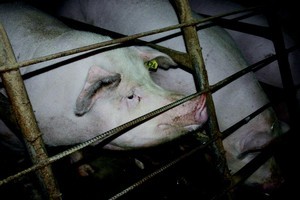 Pig gestation stalls (sow crates) will be phased out by December 2015, Agriculture Minister David Carter announced today.
He made the announcement at the release of the Animal Welfare (Pigs) Code of Welfare 2010 at Parliament today.
The use of sow stalls on New Zealand pig farms will be limited to four weeks after mating in 2012, and prohibited by the end of 2015.
"The growing unease of many New Zealanders about the use of sow stalls, which I share, made it clear that change was necessary. The science also supports this," says Mr Carter.
"The reality is, worldwide there is increasing opposition to highly intensive systems of pig farming and New Zealand has a role to play in leading the way."
New Zealand Pork chairman Chris Trengrove said his organisation supported the phasing out and would collaborate with the Government and the National Animal Welfare Committee to help farmers.
The change would give New Zealand pork producers an opportunity to differentiate themselves against global competitors, he said.
However, it was likely to cost pig farmers more than $20 million over the phase out period, he said.
"This initiative will need to see our farmers paid higher prices for locally produced pork, bacon and ham."
Chief executive of the Society for the Protection of Animals (SPCA) Robyn Kippenberger said the 2015 phase out date was "reasonable".
"It's reasonable to expect the industry to shift in that time. This gives us some surety. 2020 was being bandied about and that was far too long," she told Radio New Zealand.
Ms Kippenberger said it was pleasing to hear the industry was supporting change as the conditions in the crates was "inhumane".
"The sows can't turn around, they can't do anything expect lie down in place. No animal should be kept incarcerated like that."
But Ms Kippenberger said pig farmers are still allowed to use farrowing crates while sows are giving birth to piglets.
"We will have [farrowing crates] for a long as we have intensive systems which require the sow to have more piglets than she can actually manage," she said.
- NZPA and NZ Herald staff