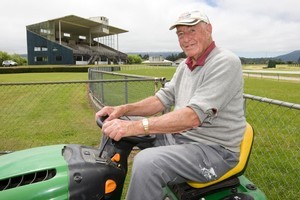 Volunteers have been working "frantically" to prepare for Thursday's remembrance service to honour the 29 men who lost their lives in the Pike River Coal mine, a Greymouth churches spokesman says.
Local volunteers joined contractors at the Omoto racecourse today, which looks out to the Paparoa mountain ranges, to prepare the grounds and help set up extra grandstands.
The racecourse's grandstand, seating 1000, will be filled with the families of the 29 men and Pike River staff and their families, while two other grandstands have been brought in and one more is on its way to seat some of the 7000 people expected to attend.
A stage, which will seat 18 people, and 29 tables to represent each of the men, will also be set up for the service.
Each table will have a miner's helmet and the name of the person who died, along with various symbols including small stones and pieces of fern.
People will be able to sit on the grass in front of the stage, and large screens will be set up for those who can't see the stage from where they are sitting.
Reverend Jayson Rhodes told NZPA many locals had taken the day off work today to come and help set up.
"(Volunteers) have been working frantically to make sure they can honour their 29," he said.
It was important the service was organised and led by Coasters as "it's their place...a place stricken with grief", he said.
Blaketown man Bruce Brown, 68, has come out of retirement to volunteer his help.
He is a member of the Blaketown Rugby Football Club committee, which lost three of its members to the mine tragedy.
"It's quite hard all round. It's hard for everybody," he said.
"It doesn't matter what you do, I don't think it will be enough," he said of the service.
Mr Brown said he was impressed by how many "young fellas" had come in to help - especially yesterday, which was a public holiday in Greymouth.
"It's been a really good team effort" and people were doing a "top job", he said.
Mr Brown's mate, 76-year-old Brian McEnaney, had also offered his help.
He said it would be an very emotional service for him: "You think about it and you start...a tear comes to your eye every now again."
The Omoto racecourse was the best place on the West Coast to hold the service, he said.
An Internal Affairs spokesman, who has been brought to assist with the preparations, said locals were drawing on Greymouth resources to get everything done.
"A huge amount of work has been done by the locals and others have simply come in to work alongside them and just offer a bit of assistance really," he said.
He could not provide details of any foreign dignitaries who were attending.
Prime Minister John Key, Governor-General Sir Anand Satyanand, Grey District Mayor Tony Kokshoorn, and Pike River Coal chief executive Peter Whittall, who was the public face of the rescue operation, will speak at the service.
Reverend Tim Mora, head of the Greymouth Ministers' Association, will lead the service, which is expected to take an hour.
Buses will be available to take people to the service and people are encouraged to take cushions, hats and sun screen.
- NZPA