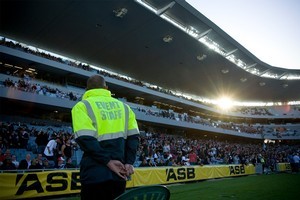 More security staff and greater police visibility are among changes to be made at Eden Park when a big event is next held at the Auckland ground, Mayor Len Brown said yesterday.
A mayoral taskforce was convened after a Four Nations rugby league double-header at the stadium on November 6 was marred by drunken fans, bottles thrown on the pitch and six arrests for disorderly behaviour.
The taskforce, which includes the chief executives of the Auckland Council, Auckland Transport and the Eden Park Trust Board, as well as senior police officers, councillors and local board members, met for the first time yesterday.
The group agreed to steps including better enforcement of liquor bans.
There would be improved co-ordination of communication between the various agencies and residents, and better screening of fans to ensure alcohol wasn't smuggled in.
Increased numbers of security staff would be more proactive and police would also be more visible outside the ground.
The next significant test of crowd management at Eden Park will come on Boxing Day, when New Zealand face face Pakistan in a Twenty20 cricket match.
Mr Brown said Auckland was on show every time a big sporting event was held at the venue.
- NZPA