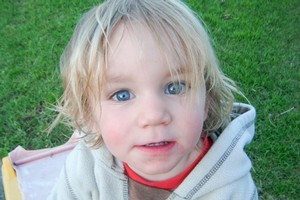 Joseph Barrett had been flown to Starship Hospital. Photo / Supplied
My heart feels black and blue," said father Richard Barrett yesterday.
"The fact of the matter is that I, the father, have killed my son by running him over in the driveway."
An anguished Barrett could put it no clearer. It was six days since he crushed Joseph, 2, while reversing his 4WD down the driveway at home in Wainui Beach, Gisborne.
And, through the tragedy, Barrett has a warning for other parents: "Diligence takes effort. Pay attention to your kids at all times.
"We were so consistent with all our protocols before we backed out our driveway every single time. For some reason, this time we didn't see."
The horror began for Barrett and his wife Stacey on Sunday about 8.30am while preparing for a fishing trip. Stacey Barrett was staying home with Joseph and Lewis, 3, while Barrett was heading out with mates.
"I didn't pull out straight, I pulled out on a turn...I couldn't see Joseph. He was on... the passenger's side."
A friend who had just driven up was making frantic arm motions. When Barrett realised what had happened, he got out of the 4WD, scooped up his boy and got into his mate's car.
From Gisborne Hospital, Joseph was airlifted to Starship Hospital in Auckland.
For a week "we were all hanging on to hope", said Barrett. "The doctors were terrific but I pretty much felt his life had gone in my eyes."
In the end, the Barretts were told their youngest son was not going to recover and it was time to let him go. They turned off his life support on Friday night.
"He had enough pain and suffering. There were no positive signs. He had a huge, huge head injury."
There was "relief...that Joseph was in no more pain, that he could be at peace", said Barrett.
"He was a fragile little boy because he was struggling with a heart condition. We were told he had a week or month to live...when he was just 3 months old."
Doctors had said Joseph would need a heart bypass - then he "made it to his first birthday".
"But he was always plagued with sickness. He's been through so much for a little fella."
They brought Joseph home to Gisborne, the town they chose for its surf and childhood memories, on Friday night. They slept with him and tried to understand what would come next.