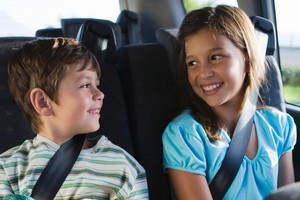 New Zealand will look like a much different place in the future, if the early results of a longitudinal study are anything to go by.
The Growing Up In New Zealand study of more than 7000 children born in the last two years and their families released its first report today.
A longitudinal study involves repeated observations of the same items over long periods of time.
The report, Before We Were Born, interviewed the parents of the children during pregnancy, finding the families very different from those of previous generations.
The average age of parents having children was greater than 30, a third of children were born to a parent that did not grown up in New Zealand, 60 per cent of the parents were in a legally binding relationship and an increasing number of children were born into varied family structures.
"The participants of this longitudinal study are being born into a culturally and structurally diverse New Zealand, with many of their parents having moved here only in their adult years," the report said.
"Our children also have diverse socioeconomic realities and their parents have varied intentions for their care arrangements in the future."
The report said 80 per cent of the children were born into households where English was their primary language.
While one in three would grow up in a multilingual home only one in 20 of the children's parents would speak te reo Maori.
The study said that "raises concerns about maintenance of this unique resource for our future generations".
More than half (60 per cent) of the pregnancies were planned and most of the families had two or three children.
Although more than 90 per cent of the mothers reported changing their dietary habits during pregnancy, a "considerable number" consumed alcohol or caffeine or eat raw or highly processed foods.
In addition 16 per cent of the mothers did not take folate before or during their pregnancy.
More than one in 10 of the mothers continued to smoke and those who were not physically active before their pregnancy were unlikely to start during it.
The majority of mother intended to breastfeed their child to at least six months and to fully immunise them.
Director of the Immunisation Advisory Centre at Auckland University Nikki Turner said their intentions to immunise was good news.
"There is a significantly higher percentage of people undecided if it's their first child. It is really important that parents having their first child are clearly informed of the issues around immunisation with good information and good decision-making tools."
Social Development Minister Paula Bennett said she was pleased concerns about mothers' behaviour during pregnancy had been identified.
"That's part of the study is to look backwards and see what is actually happening so we can move forward and make some changes in how we do it."
Four out of 10 of the children were born to families living in the most deprived areas of the country and almost half were born to families living in rental accommodation.
Most of the mothers were in paid employment before their child was born, whether it was their first child or not, and intended to return to work.
Many of the parents in the most deprived areas did not know about paid parental leave nor working for families tax credits.
"This is disappointing given that these are the families who probably require this additional support most," the report said.
The parents said they would like to take more leave after their child's birth.
- NZPA