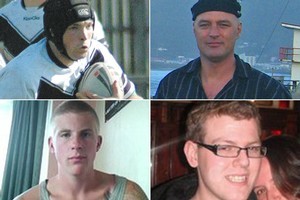 The backgrounds of the missing miners - not all of whom have been identified to date - are as wide and varied as their ages, hailing from as far abroad as Scotland and South Africa.
Blair Sims - A talented rugby league player, Blair is the West Coast player of the year for the past two seasons. He is the husband of a young wife and father to two young children.
Ben Rockhouse - Aged in his 20s, Ben is the brother of Daniel Rockhouse who was one of the two that walked out after the explosion yesterday.
Michael Monk - Michael is the son of Paroa Hotel owner Bernie Monk who is a local legend, and part of the well known Monk family. Michael is a keen rugby player for Blaketown and West Coast
Joseph Dunbar - It is understood the day of the explosion was 17-year-old Joseph's first day working underground at the mine.
Milton Osborne - Milton is serving his second term as a Grey District Councillor for the Eastern Ward and lives in the Grey Valley. Milton is a contractor at the Pike River mine.

Malcolm Campbell - A 25-year-old Scotsman from St Andrews, Malcolm is due to marry his Kiwi fiancee Amanda Shields on December 18.

Peter Rodger - Peter moved from Scotland to New Zealand two years ago to be closer to his mother and sister, and lives with his Kiwi girlfriend Dianne Morris. A former oil rig worker, the 40-year-old made the switch to mining after sustaining a leg injury in the North Sea.
Koos Jonker - The wife of South African Koos Jonker, Christelle, left a moving message on her facebook page thanking people for their support and asking to "keep on believing" her husband is OK.
Josh Ufer - The girlfriend of Queenslander Josh, 27, is due to give birth in May. Josh is working at the mine as an underground drill supervisor.
Zen Drew - Zen is a building apprentice for a company contracted to Pike River Coal. Laurie Drew, the father of 21-year-old Zen, has voiced his concerns about how slow the rescue is.
Alan Dixon - Alan, 60, is one of the oldest of the 29 miners caught up in the disaster. He made the call to his partner in Runanga just after the blast.
Brendon Palmer - Second generation miner Brendon was walking into the 2.5km-deep tunnel when he passed his father Marty Palmer, who had just finished a shift at 8am on Friday morning. Marty said he had reported gas problems when he finished his shift.
Terry Kitchin - Runanga man Terry had apparently finished his shift prior to the explosion but opted to do two hours overtime.
Kane Nieper - Kane is married to the daughter of a local contractor and has a young family.
Peter O'Neill - The Runanga man is reported by the Otago Daily Times to have been involved in the rescue of miners trapped in floods at Black Reef mine two years ago and his brother is involved in the mines rescue team for this rescue.
Chris Duggan - Runanga
Conrad Adams - Greymouth
Glen Cruse - Cobden
- NZHERALD STAFF