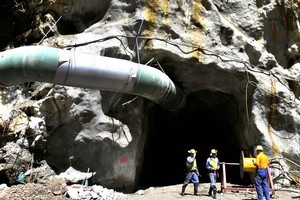 A young miner who escaped yesterday's Pike River coal mine blast by minutes is among those enduring an anguished wait for news of friends and colleagues trapped underground.
The Greymouth man, in his early 20s, left the mine at the end of his shift about 10 minutes before yesterday's explosion.
He has been at the Red Cross centre in Greymouth today.
He was too upset to talk today with his friends still trapped underground.
Contemplation, worry, uncertainty, hope - all emotions are running high in Greymouth this morning following the explosion.
Although a lockdown has been put in place at the Greymouth Red Cross centre, where families and friends of miners still underground have been gathering, and family members have been advised not to talk to the media, members of the public all say they are close to or know of someone still not accounted for.
Garry McMillan, owner of Mac's Store in Runanga, said the mood of customers he had spoken to yesterday evening and this morning was "sombre".
"It's pretty much quiet, sombre, but very optimistic. We are holding onto hope. What a disaster."
Mr McMillan said a number of the miners who had not returned were regular customers at the store.
A girlfriend of one of the miners rang him at 1 o'clock this morning asking for a bottle of Coke because she could not sleep, he said.
"She was very distraught. She came in this morning to pick up a pack of smokes before heading to her family in Dobson."
The tight-knit nature of Greymouth and its surrounding towns meant everyone knew at least one person who was "still down there".
Mr McMillan was a 12-year-old when the Strongman mine explosion killed 19 men in 1967.
"I lived in Grey at the time. (Yesterday's explosion) brings me back to that, it brought me back to memories of the funeral ... but we don't want to go there though.
"I was neighbours with Harry van Looy, he was a miner. He died in (the Strongman disaster).
"It's all sickening. You get a sick feeling in your gut when something like this happens. I especially do thinking that people who are my customers are down there."
St Patrick's Catholic church parish priest Father John Morrison said there would be a vigil mass held tonight during which special prayers would be said.
"During this time we feel the importance of being here for people."
Both himself and fellow priest Monsignor Gerry O'Connor had planned to leave for retreat this weekend but after the explosion they felt that "this is where we should be at this time".
"Prayer is a good help to people at any time, especially in crisis. I suppose people are clinging to hope at this stage."
Meanwhile, a number of groups around Greymouth are pulling together to offer assistance to the families, support staff and other affected parties as they await more news of the situation.
Staff and students in the kitchens at Tai Poutini Polytechnic have fired up the ovens to cook for families waiting near the mine site and those at the Red Cross centre.
Specialist mining groups from all over the world are reported to be offering to fly people and equipment to assist in the rescue effort.
Polytechnic chief executive Paul Wilson said one or two of the polytechnic members had family still in the mine.
"Pike also has 12 members on their staff who just finished underground training - we don't know if they're underground or not."