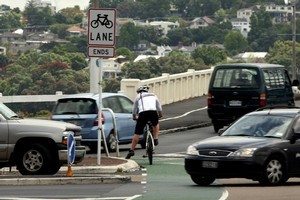 Road safety is again in the spotlight this week, following crashes which killed five cyclists and critically injured two more.
The deaths have resulted in an Auckland group calling for the introduction of continuous cycle lanes in the city, and Transport Minister Steven Joyce today announced he was considering "regulatory changes" following the "tragic series of accidents".
Hundreds of comments poured into our Your Views forum, expressing a range of opinions on what might be done to make cycling safer.
Many expressed the view that better cycle lanes were the only solution to ensure cyclists' safety.
Said Jim: "Our roads are often not up to the task of accommodating both.
If we were serious ... about providing a safe environment for cyclists we'd have dedicated cycle lanes separated from car lanes by a concrete median."
Bob Uncle agreed. "Cars and bicycles don't mix. Cycle lanes are the answer along with laws that require bicycles to use those lanes when provided. Some of the money put towards public transport needs to go to providing cycle lanes."
More education and increased awareness on the roads were also touted. Greg Spark said drivers needed to pay more attention, while cyclists should make themselves more visible.
Motorcyclist Deb said simple courtesies went a long way. "Cyclists need to remember that the road does not belong to them, use the cycle lanes when they are provided, not ride 3 or 4 abreast, and finally treat all motorists as people who will do the most idiotic things and plan for them."
Some, like JBB, suggested introducing a licensing requirement for bike riders: "Ideally, cyclists shouldn't be on the road unless there is a dedicated cycle lanes. Realistically, if anyone is going to use the road, they should be licensed."
Astute Observer took it one step further, calling for cyclists to pay their way. "ALL cycles used on public roads should now be registered in order to share the burden of costs. All cycles being used on public roads should have an annual inspection, like a WOF, and a Road Worthiness Certificate [RWC] be displayed."
Rhys wrote that NZ should follow the Netherlands in placing legal liability on the driver in cyclist-motorist collisions.
"The Dutch recognised the cyclist will virtually always be the injured party in a collision with an automobile, and by putting the onus of fault on the driver, have provided motorists with a powerful legal incentive to pay more attention to the presence of cyclists."
There was also plenty of debate around Auckland's infamous Tamaki Drive, following the death of British cyclist Jane Bishop on Wednesday.
Ravensdale called for a parking ban on the bend where the accident occurred, and KatieR wanted to see parking lots built away from the road.
"4-5 FREE parking centres need to be built on some of the disused council land on the other side of Tamaki Drive, with overpasses for safe crossing, and then the part of the road used for cars becomes a dedicated cycle lane with a safety barrier like the motorway uses between lanes."
And while many berated cyclists for not using the cycle lane on the shared Tamaki Drive footpath, David wrote: "The Eastbound shared footpath/'cycle' lane is unrideable. It is terribly maintained, fraught with trees and power poles, and usually clustered with pedestrians."
Others, such as Ian and A_Cyclist, said the footpath - including the cycleway - was often littered with glass. Others pointed out that the cycleway only ran along one side of the road.
TGM wrote: "The cycle lane on the footpath is clearly purely for the recreational cyclist, and not there for the commuting or training cyclist who typically use 'road' bikes, travel at speeds in excess of 30kph, and require decent surfaces to ride on. Not activity that is appropriately shared with the pedestrians and families with young children out riding bikes."
- NZ Herald staff