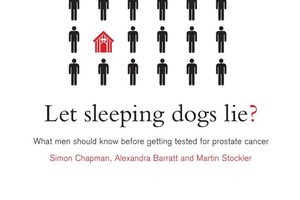 A book that will express scepticism about the value of prostate cancer screening has attracted criticism from medical specialists and from prominent survivors of the disease.
One of the authors, Professor Simon Chapman, said yesterday the book would provide "balance to what is often an irresponsible, one-sided pro-screening message".
The book, Let Sleeping Dogs Lie? What men should know before getting tested for prostate cancer, written by Professor Chapman, of Sydney University, and two academic colleagues, will be launched tomorrow.
The Urological Society of Australia and New Zealand repeated its message that detection of prostate cancer saved lives and said a recent Swedish study had found a 44 per cent reduction in deaths from the disease after screening.
"We are disappointed that this book ... will add to the confusion rather than lift the fog."
Professor Chapman believes screening for cancer with the prostate specific antigen blood test is of limited value, a view shared by Associate Professor Brian Cox, a leading New Zealand cancer epidemiologist.
"[It] is a tool which has very poor ability to find problematic cancers," said Professor Chapman.
"It finds many benign cancers which could have been left alone."
It could lead to tests and treatment "that for some men may save their life. But for many more a test will result in serious, unnecessary surgery and other investigations.
"In a large proportion of cases, this will cause enduring and often permanent, major after-effects in the form of sexual impotence, urinary incontinence and, less commonly, faecal incontinence."
An Australian Cancer Council study whose five-year follow-up results were presented at a conference last week found that 97 per cent of patients treated with testosterone-deprivation therapy were impotent.
For radical prostatectomy (surgery) patients, the figure was 77 per cent; external beam radiation therapy, 70 per cent; combined therapies, 82 per cent; and brachytherapy (implanted low-dose radioactive "seed"), 43 per cent.
Dr Cox said only two of the randomised studies of prostate cancer screening had suggested it reduced the death rate from the disease.
The other four found a higher rate for those offered screening. Current evidence did not support prostate cancer screening.
Nearly a third of men aged over 50 had a small prostate tumour which, when seen under a microscope, would be called "cancer" by a pathologist, but the rate of diagnosed prostate cancer was far less than 30 per cent of men over 50.
But society president Dr David Malouf indicated the Swedish study meant that around 240 of New Zealand's 600 prostate cancer deaths each year could be avoided.
He said most men would be reassured of a low cancer risk after PSA and digital rectal examination by a doctor.