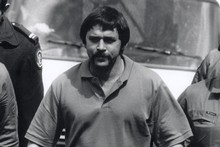 Convicted double murderer David Tamihere has been released from prison after 20 years behind bars.
Tamihere was sentenced to life imprisonment in 1990 for the murders of Swedish tourists Urban Hoglin and Heidi Paakkonen in the Coromandel in 1989. Mr Hoglin's body was found by pig hunters in Coromandel bush two years after he went missing but Ms Paakkonen's body has never found.
He has continued to maintain his innocence of the murders.
Radio New Zealand reported the Corrections Department as saying Tamihere was no longer in their custody and had been released from Waikato's Spring Hill prison early this morning.
Newstalk ZB reported Tamihere left at 4am, avoiding a large contingent of media who had staked out the prison in the hope of witnessing his release.
The Parole Board nearly two weeks ago accepted a proposal for electronic monitoring release, saying it did not believe Tamihere would pose an undue risk to the community if released.
The board noted a "remarkable breakthrough" as a result of Tamihere's involvement with a Maori psychologist, which, along with other treatment, had seen Tamihere move from being a closed person to being quite open about all aspects of his past life.
He also showed increased ability to manage his risk in a satisfactory way.
Tamihere will be on standard parole conditions for the rest of his life.
The board stipulated a number of conditions, including that he not consume alcohol or illicit drugs for his lifetime, that he undertake any counselling as directed by his probation officer, and that he not have contact with the families of his victims.
Police had requested that as part of Tamihere's release conditions he be required to disclose the whereabouts of Ms Paakkonen's body.
But the board said that each time the topic had been pursued it had been met with adamant denial and the issue was not worth pursuing.
Tamihere had skipped bail for a 1986 rape and was on the run when the Swedish murders were committed. He also had a manslaughter conviction for the 1972 death of an Auckland prostitute.
- NZPA