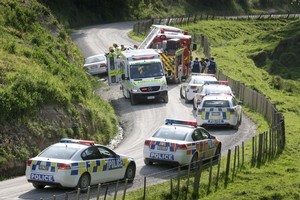 Police have revealed the driver of a car which crashed near Westport killing his young passenger, ran away from the crash.
Sixteen-year-old Westport girl Harmony Wihongi died after she was thrown out of a Toyota Hilux last night.
The car was being driven by another 16-year-old, who ran off before police arrived.
He was found later, and processed for drink-driving.
The crash brings the holiday weekend road toll to seven.
The crash happened at 11pm on Sunday on Fairdown Road (State Highway 67), just outside of the West Coast town.
A 74-year-old woman also died after a Subaru Impreza collided with a Nissan Bluebird on a gravel road near Wanganui just after 4pm.
The accident happened on Kaikokopu Road in Brunswick, 11km north of Wanganui, police said.
The woman was a passenger in the Bluebird. The driver was taken to hospital with serious injuries.
Some of the five occupants of the Impreza received minor injuries, police said.
Early Sunday, a crash in Waikato which killed two people was believed to have involved speed and alcohol.
"At this stage the deaths of these young people appears to have been preventable and is a bitter blow to our staff trying to maintain a highly visible presence as we work to keep the holiday road toll down," district road policing manager, Inspector Leo Tooman, said.
"It appears speed and alcohol were factors in the crash but we won't be able to confirm this for several days," he said.
Emergency services were called to the scene on Rotowaro Road, west of Huntly, about 1.45am.
However, investigators believe the crash may have happened earlier as the area had a power cut about 1.15am.
The car appeared to have failed to take a slight bend and collided with a power-pole, which would explain the earlier power failure, Mr Tooman said.
A man, believed to be the driver, had been able to raise the alarm, he said.
A fourth person, who had been a passenger in the car before being dropped off in Huntly, was assisting police with their investigation.
Mr Tooman urged motorists to plan their journeys home and allow plenty of time, take regular rests and be extra patient when travelling in heavy holiday traffic.
A truck driver died in a truck crash near Kaikoura on Sunday morning in an accident on State Highway 1 near the Conway River Bridge at 8.30am.
One person died in a two-car crash on State Highway 93 in Southland on Saturday at midday about 15km east of Mataura, near Gore, on a stretch of highway known as Old Coach Road.
A 46-year-old man was in Southland Hospital with injuries not believed to be serious, and his two children were flown to Dunedin Hospital.
An eight-year-old boy had a suspected broken leg, and an 11-year-old girl underwent surgery Saturday afternoon.
On Friday, one person died and a second was injured in a head-on collision on State Highway 2 at Matamau, near Norsewood in the southern Hawke's Bay about 8.15pm.
The official holiday runs from 4pm Friday until 6am on Tuesday.
- NZ Herald staff, NZPA