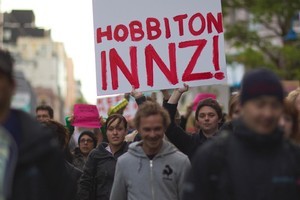 The head of the Council of Trade Unions (CTU) says the public should not be under the illusion that there were any industrial issues remaining over the filming of The Hobbit.
Actors' Equity last week withdrew its international do-not-work recommendation on The Hobbit, which it had issued over its wish for a collective contract for actors to be negotiated.
But the film's director Sir Peter Jackson said representatives of the film's producers Warner Brothers would be in New Zealand next week "to make arrangements to move the production offshore".
Prime Minister John Key has said he wishes to meet the Warner Brothers representatives to help convince them to keep the film in New Zealand.
CTU president Helen Kelly said today that Actors Equity, and its related Australian-based union Media, Entertainment & Arts Alliance (MEAA) had given an absolute assurance that there would be no disruption to the filming of The Hobbit in New Zealand.
"On Sunday October 17 Actors Equity advised the Screen Actors Guild to lift any international action that could impact on The Hobbit. Actors Equity has also confirmed that there will be no future action by actors which will impact on production of The Hobbit in New Zealand," she said.
"This statement has been made necessary because of continuing misconceptions in the media that this dispute remains unresolved.
"I sincerely hope Warners accept that assurance."
A series of emails between Warner Bros and the American union the Screen Actors' Guild (SAG), sighted by NZPA, showed the two parties were discussing the wording of a press release announcing the settlement of the dispute from as early as Monday, US time.
Despite this, another of the film's backers, New Line Cinema, said in a subsequent statement that reports the boycott of The Hobbit was lifted by unions a number of days ago and that Warner Bros asked to delay this announcement were false.
"The actions of these unions have caused us substantial damage and disruption and forced us to consider other filming locations for the first time. Alternative locations are still being considered," New Line said.
"It was not until last night that we received confirmation of the retractions from SAG (Screen Actors' Guild), NZ Equity and AFTRA (American Federation of Television and Radio Artists) through press reports. We are still awaiting retractions from the other guilds."
In a statement posted on Wednesday on its website, the SAG advised members it had lifted its blacklist on The Hobbit after advice from the New Zealand union and that members were free to work on the film.
Actors' Equity said it did not make public the withdrawal of the blacklist any earlier because of requests from parties in the United States, but it did so on Thursday NZ time following Sir Peter's announcement of the Warner Bros visit amid building tensions between actors and technicians in Wellington.
- NZPA