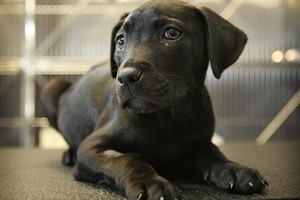 A kitten with its head torn off, a puppy thrown across a busy road, seals bludgeoned to death, a cat shot five times with an air rifle.
These are just a handful of horrific cases of animal abuse on the SPCA's annual List of Shame.
The list, provided exclusively to the Herald on Sunday, contains the 46 worst cases of animal cruelty, neglect and torture over the last year.
SPCA chief executive Robyn Kippenberger said the list was disturbing and shocking and was only the "tip of the iceberg".
"The young boys using the puppy as a basketball in South Auckland stands out as particularly vicious and sinister," she said.
"The most disturbing thing is when young people, especially young men, are concerned. We know the likelihood is very high that they will use the same sort of violence against people."
OCTOBER 2009
* Te Ahu Aaron Mankelow of Gisborne fed five live kittens to his dog.
NOVEMBER 2009
* David Hemuera Snook, of Pukekohe, tore the head off a kitten in front of his family.
* A young Dunedin primary schoolboy was caught torturing his neighbour's hens. One died of stress.
DECEMBER 2009
* Two dogs were left chained up in Whangarei while their owner was away over Christmas. The older dog had a seizure caused by heat stroke, and the younger dog's internal organs had started to cook. He had to be put down.
* A dog in Wellington was tied to a 10kg weight and drowned near Titahi Bay. After surgery on a knee, a Wanaka dog was left out in the open in a cage with no shelter or water, lying on a blanket covered in urine and faeces.
* A dog in Otatara, near Invercargill, was found burned, bloodied and peeling after being doused in solvent.
JANUARY
* A cat in Whangarei was put down after boiling water was poured over its body.
* In Alexandra an 18-year-old boy shot at his dog with an air rifle to stop it from barking.
FEBRUARY
* Two pet dogs were stolen, bludgeoned to death and thrown in a sewage pond in Otematata, South Canterbury.
* A malnourished dog was found with three bullet holes in his head in Wairau Valley, near Nelson. It appeared that someone had tried to euthanise it and left it to die.
MARCH
* A dog was found dead in Invercargill after being locked in a room surrounded by rubbish and faeces and left to starve.
APRIL
* A 1-year-old pet lamb in Rotorua had to be put down as a result of severe starvation.
MAY
* A female dog was hit by a car in Tauranga, resulting in a dislocated hind leg. The owner left the dog for up to three months without treatment.
* In Thames a pitbull was found with horrendous injuries to the left side of her face. The skin had been removed from her ear to her eye and down to her jaw.
JUNE
* Two youths ran over and bludgeoned to death two seals and a pup at the Kaikoura peninsula seal colony.
JULY
* A kitten was found with its ears cut off in Carterton. A trekking horse was euthanised because of its emaciated condition.
AUGUST
* Two puppies were left for dead in a cardboard box in Feilding.
* A family cat in Palmerston North was shot five times with a slug gun.
* Kereama Joseph Phillips, 33, attacked a 6-month-old pup with an iron bar in Waitara.
* A puppy was kicked, struck against a tree and thrown through a basketball hoop by four boys in South Auckland.
SEPTEMBER
* A goat in New Plymouth was killed after its throat was slashed with a blunt knife.
* A family cat was shot at close range with an air rifle in Otumoetai, in the Bay of Plenty. The bone was shattered in the cat's leg.
* A pet cat spent up to two weeks caught in an illegal steel-jaw leg hold trap on a Christchurch property.
* A duck was shot with a crossbow in Porirua.
* A puppy in Kerikeri was thrown or kicked across a busy road. A truck driver stopped when he saw the dog fly in front of his truck.

The SPCA's annual Paws Appeal runs from November 6-12. To find out more or make a donation visit www.spcapawsappeal.co.nz