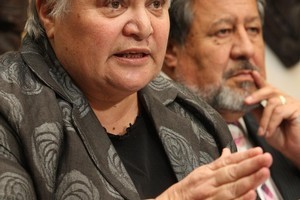 Maori Party co-leader Tariana Turia is not guaranteeing her party's support for new foreshore legislation after moves to amend it to explicitly state iwi could not charge for access.
The Act Party recently caused tensions by crowing of "a major policy win" by securing Government support for a change to the Marine and Coastal Area (Takutai Moana) Bill to specifically prohibit customary title holders from charging for public access to the beach.
At the time Maori Party co-leader Pita Sharples said that was insulting because it implied Maori were out to make money.
Now Maori MP Hone Harawira is saying the party should vote against the bill.
"I don't see why we should sit back and let a little fat redneck like Rodney Hide put in a amendment at the last minute," he told Radio Waatea.
"We should be saying to National, 'here's the deal National', you want to do private deals with Rodney Hide go ahead, we're out... they will still have the numbers to put it through but as a matter of principle, we should say nah."
He has always opposed the bill on the grounds it does not give iwi ownership, but the bill does allow for customary title and the other four MPs were expected to support it all the way - something that MP Te Ururoa Flavell previously stated to NZPA.
Today Mrs Turia said the party would make its decision about whether to support the bill further, depending on what changes were made during the select committee process and after consultation.
"...If our constituency says this is not worth our while progressing then of course we wouldn't."
The Maori Party formed over opposition to Labour's foreshore legislation and its repeal was a key goal, meaning the party will more than likely vote it all the way through.
Mrs Turia said she agreed with the Government that the bill did already provide for free access but did not see the need for it to be made explicit.
"We think its just a bit of politicising by the Act Party who of course are not polling very well at the moment."
Prime Minister John Key this morning indicated the Government would look at inserting the word "free" into legislation rather than passing a separate amendment about Maori.
Mrs Turia said it made no difference.
"The fact is that the Government can't dictate to private land owners and we know that and the fact of it is that iwi have never objected to the issue of free access."
Mr Hide told NZPA that Mr Harawira had resorted to insults because he could not argue his case.
He disagreed that Act had caused tension and disruption.
"Both the National Party and the Maori Party have been assuring New Zealanders that there will be no opportunity to charge for access to the beach.
"Our legal advice is that wasn't certain, so we recommended that the law state that... I'm not responsible for how they feel, but I am responsible as a parliamentarian for making sure the law delivers on what the Government says."
This morning Mr Key said if the Maori Party did not support the bill the status quo would remain.
Labour leader Phil Goff said National had said one thing to ACT and another to the Maori Party; "and it's falling apart on them".
Labour said access had to be free and iwi should not be singled out.
- NZPA