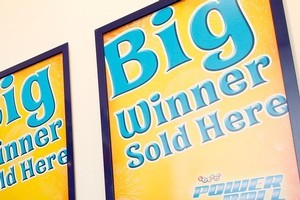 Someone in New Zealand has 28 million reasons to be happy after a single ticket scooped the Lotto Powerball jackpot last night.
After 16 weeks of jackpotting, the winning $28,309,882 ticket was sold at a Mobil On the Run 24-hour service station.
And the ticket's prize was bumped up by another $400,521 with a share in Lotto's first division draw.
The Powerball prize was the biggest won by a single ticket, eclipsing the previous highest of $22.4 million won last October by a player from Manukau.
But the win failed to rouse excitement at Mobil Papakura, the South Auckland service station that sold the ticket.
No one at the service station expressed the slightest excitement at selling the ticket - an attendant said the manager was at home asleep and would not want to be woken.
But two customers were kicking themselves for not buying a ticket this week.
Liam Elliott, 27, usually gets his ticket from the Mobil Papakura but didn't yesterday.
And school secretary Karen Alcock was watching the Kiwis rugby league team play Samoa at Mt Smart, so she didn't get one from her usual outlet either.
"I wish it was me [who won]," she said. "But I'm really glad for whoever it was."
The biggest lottery won on a single ticket in New Zealand was $30m in Big Wednesday last year, won by a Masterton family.
The last time Powerball jackpotted for 16 weeks it reached $30m before being shared by five Powerball Second Division winners. Each of the five winners got just over $6m each.
Four other players also won a $400,521 share each of Lotto First Division last night.