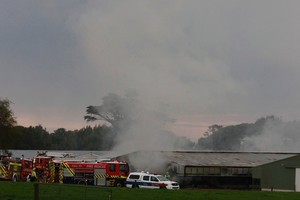 Two firefighters have been injured battling a large blaze at a poultry farm in Lepperton, north of New Plymouth.
Central emergency communications spokeswoman Abi Payne said two people had been transported to Taranaki Base hospital, one with serious injuries and one with moderate injuries.
Ms Payne said she believed the two were firefighters but could not confirm that.
A central fire service communications spokesman confirmed the blaze was a "fourth alarm" fire, a rating out of five used to indicate the number of fire units attending.
The Fire Service was alerted at 4.30pm to the blaze in a 100-metre long chicken house on the farm, which quickly escalated, central fire communications spokesman Mike Wanoa told NZPA.
More than 30 firefighters were still fighting the fire.
- NZ Herald staff, NZPA