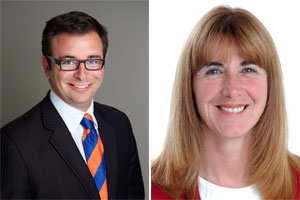 The first Auckland Council has a centre-left look about it, which will make life easier for Super Mayor Len Brown.
Former Mayors Christine Fletcher and George Wood have won seats on the council but former Manukau Mayor Sir Barry Curtis missed out on one of two seats in the Manurewa-Papakura ward.
The seats in this ward were won by former Olympian and Manukau City councillor Sir John Walker and Papakura Mayor Calum Penrose.
The right-leaning Citizens & Ratepayers ticket has done poorly, winning just five seats. On Friday, C&R president predicted 10 or 11 seats.
The C&R team includes Mrs Fletcher, who was Auckland City Mayor from 1998-2001; Mr Wood, a three-term mayor of North Shore, Manukau City councillor Jami-Lee Ross, Rodney councillor Des Morrison and Auckland City councillor Noelene Raffills.
As expected former Newmarket Business Association chief executive Cameron Brewer easily beat C&R's Doug Armstrong to win the blue-ribbon Orakei seat.
Former Labour MP Ann Hartley and Mr Wood won the two seats on the North Shore from a crowded field, while Penny Hulse and Sandra Coney predicatbly won the two Waitakere seats.
In the Albany ward, young Rodney District councillor Michael Goudie joined another Rodney District councillor Wayne Walker to secure both seats.
The left-leaning City Vision ticket won three seats. Cathy Casey took one of two seats in the Albert-Eden-Roskillward, Richard Northey won the single-seat ward of Maungakiekie-Tamaki, and Auckland Regional Council chairman Mike Lee - endorsed by City Vision - won the flagship Waitemata & Gulf seat. He beat Heart of the City chief executive Alex Swney.
The two Manukau seats were won by Manukau City councillor and Labour candidate Alf Filipaina and Manukau City councillor and former National MP Arthurt Anae.
Rodney Mayor Penny Webster won the single Rodney seat and Franklin deputy mayor Des Morrison won the single Franklin seat.
C&R rally together after 'walloping'
Almost 300 C&R supporters have gathered at the Eden Rugby Football Club to offer each other commiserations after what one attendee called a "walloping" in the polls.
Defeated mayoral candidate John Banks dropped in to make a speech, thanking the right-leaning party's support during the campaign.
Citizens & Ratepayers won just five council seats after predicting 10 or 11 seats yesterday.
Standing under a sponsorship banner for "Davis Funerals", Banks told the gathering, to much applause: "Once all the politics are over, all you've got is your family, your faith and your health."
Party president John Slater said he was disappointed with the overall result.
The winners by ward are:
Rodney: Penny Webster
Albany: Michael Goudie, Wayne Walker
North Shore: Ann Hartley, George Wood(C&R)
Waitakere: Penny Hulse, Sandra Coney
Whau: Noelene Raffills(C&R)
Albert-Eden-Roskill: Christine Fletcher(C&R), Cathy Casey(City Vision)
Waitemata & Gulf: Mike Lee(City Vision endorsed)
Orakei: Cameron Brewer
Maungakiekie-Tamaki: Richard Northey(City Vision)
Manukau: Alf Filipaina(Lab), Arthur Anae
Howick: Jami-Lee Ross(C&R), Sharon Stewart
Manurewa-Papakura: John Walker, Calum Penrose
Franklin: Des Morrison