Click here to see election results from your area.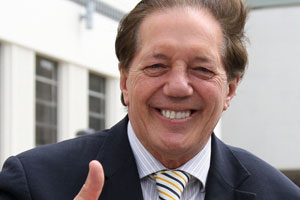 She was the southern singer who knew the lyrics to Funny Face; he, well, just had one, complete with Botox.
She campaigned for fiscal responsibility; he once blew his entire mayoral contingency budget on pig feed.
But the curtain fell early on the political aspirations of Invercargill mayoral candidate Suzanne Prentice today, voters sending a clear message in re-electing Tim Shadbolt that they're not ready for change.
It had been touted in some media circles as a battle between two celebrities - the darling of New Zealand country music going head-to-head with the seasoned activist, debater, movie star and the country's longest serving mayor.
But Ms Prentice's failure to capture the imagination of city voters was reflected in the election result, her 5311 votes more than 10,000 behind Mr Shadbolt's 16,275.
Ms Prentice said she would not discount another attempt at the top job.
"Three years is a long time. I wouldn't like to say I'm going to stand again but I'm keeping that door open."
Mr Shadbolt, who was surrounded by friends and supporters including grandsons Jared and Zach, said it was a relief to have his job for the next three years confirmed.
"Otherwise, I would have been back as a concrete contractor."
Mr Shadbolt has been mayor since 1998 and has previously said his last real test for the mayoralty was in that year.
Since then he has been elected either unopposed or without a huge opposition.
He has also been mayor of Waitemata City and councillor for Auckland Regional and Waitakere City Councils.
Mr Shadbolt said at the end of the day Ms Prentice was famous for singing while he was famous for political campaigning.
"I like her as a person and respect her as an entertainer - but you just don't know. She's an unknown quality when it comes to politics. But he is a "different sort of celebrity", he told nzherald.co.nz earlier this year.
"I similarly have a high profile - but I've achieved my high profile by political campaigning ... and that's a different sort of celebrity.
Ms Prentice said she had seen a need for a change in Invercargill when she put her hand up for the mayoralty, but this was rejected in today's result.
"Obviously, I stood because I thought it needed a change here, but people didn't agree and I'm happy to go along with that."
But there had been changes made in the council membership, which was "brilliant", she said.
Her campaign had got more people out voting this year in the city, which she considered one of her successes.
"As for not winning, I can't say I'm disappointed because I went into it to be a choice for Invercargill."
She had also learned a lot about the city and herself through the campaign, she said.
"I thoroughly enjoyed standing - though that might sound strange to say ... If you can come away having learnt about yourself and become a stronger person, I feel I've been successful."
Ms Prentice said she wished Shadbolt and the council all the very best for the next three years.
- with NZ Herald staff