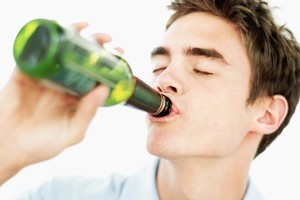 An Otago University professor wants a crack down on students binge drinking while at high school, after a survey found it can lead to heavy drinking and "hazardous and unwanted" sex at universities.
The survey, of 2548 undergraduate students at five New Zealand universities, found those who drank the most heavily were 10 times more likely to have unsafe, or unprotected, sex.
Head of the Preventive and Social Medicine Department, which carried out the survey, Jennie Connor, said students who began drinking heavily while at high school, were likely to continue at university and participate in risky sex experiences, including unsafe sex or sex they regretted.
Of surveyed students who had been drinking in the previous four weeks, 8.3 per cent of men and 5.3 per cent of women reported at least one episode of unsafe sex, Professor Connor said.
"One in eight women and one in six men said they had experienced unsafe sex or some other sexual experience that they were not happy with due to their drinking in that period."
There were also many more unwanted sexual advances involving people who had been drinking, with 12 per cent of men and 21 per cent of women on the receiving end.
Half of the university students had their first alcoholic drink when under 15. Those who started later, drank less at university and were less likely to have unsafe or unwanted sexual experiences. Those who drank heavily in their last year of high school continued to drink heavily at university and reported more unsafe sex.
Prof Cooper said the purpose of the study - published in the Australia and New Zealand Journal of Public Health - was to find out how often students experienced "hazardous and unwanted" sexual experiences and how best to intervene.
An early introduction to drinking, heavy drinking while at high school and living in unsupervised environments seemed the main contributing factors.
Prof Connor said binge drinking at high school needed to be targeted to stop harmful consequences occurring later. She said lowering the drinking age to 18 "has probably made drinking among 15-17-year-olds worse" and the job of universities more difficult.
She called on universities to work with local government and police to reduce the availability and promotion of alcohol around campuses.
She said the study also showed that for families it was better to delay initiation into drinking and the effects of the heavy-drinking peer culture young people are exposed to at school.
- NZPA