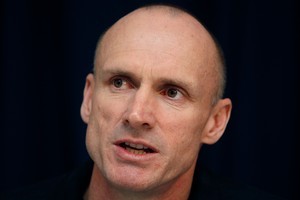 The American backer of the whale protest boat the Ady Gil, has backed anti-whaling activist Pete Bethune's claims that Sea Shepherd's boss ordered him to sink it.
The New Zealand skipper called the conservation group "morally bankrupt" on Wednesday and said he had resigned from it because he was "tired of all the lies, deception and dishonesty".
Mr Bethune said he deliberately sank his ship in January after it was rammed by the Japanese whaling ship Shonan Maru II, on the orders of Sea Shepherd group captain Paul Watson.
He said the vessel was salvageable and could be towed but that he was instructed to go inside the engine room and open the sea cocks and flood the boat to "garner sympathy with the public and to create better TV".
Ady Gil, who donated $1 million towards Mr Bethune's boat, told NZPA he believed the Kiwi skipper.
"Who is, in my experience knowing both of them, the more honourable and more of truthful person?
"Pete is more likely to tell the truth than Paul. This is my experience with Paul."
Mr Gil said Mr Watson used publicity stunts - "more headlines, more money".
Mr Watson told NZPA he felt betrayed and denied all the allegations, which he said were made because Mr Bethune was angry at being sacked.
"No one ordered him to scuttle it. Pete Bethune was captain of the Ady Gil; all decisions on the Ady Gil were his. And that's all on camera.
"I told him I wanted him to go to New Zealand. He literally begged me to go back so he can board the Shonan Maru II. And he said he would take full responsibility."
He said the group cut ties with the skipper on Sunday because he gave false statements to the Japanese, accusing him of ordering Mr Bethune to board the Shonan Maru II.
"That brings me into conspiracy to intervene against Japanese commerce. It's what the charge is."
Mr Watson said he learned there was a warrant for his arrest two weeks ago, and he was on Interpol's blue list - which allows for the collection of information about a person's identity, location or activities - which had already resulted in him being taken into custody at a United States border crossing.
Mr Bethune spent five months in a Japanese jail after he was arrested when he boarded the Shonan Maru II in protest.
He was given a two-year suspended sentence and deported to New Zealand.
Before the sentence was passed, Sea Shepherd said Mr Bethune had no place with the organisation, but it later said this statement was a tactical move aimed at getting a lighter sentence.
Mr Bethune said the group lied and the stunt portrayed him as dishonest.
He was expelled from Japan because of a bow and arrow found on the ship, which he had permission to take on board, he said. Mr Watson denied this, saying he would not allow weapons.
- NZPA