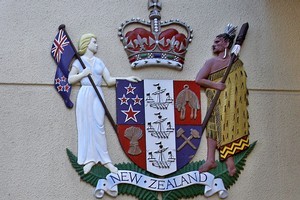 A Chinese student has been found guilty of stabbing a fellow student to death and putting her body in a suitcase, and police hope the verdict will bring some closure to the victim's family.
Peng Cheng Tian, 26, from the suburb of Hillcrest on Auckland's North Shore, was found guilty today in the High Court at Auckland of the murder of Yi Ren, 30, at an inner city Auckland apartment in September 2008.
Detective Senior Sergeant Steve Breach, of Auckland Central police, told NZPA today's verdict would hopefully bring closure to Yi Ren's family in China.
"Her sister Yu Ren, also known as Daisy, gave evidence via video link during the trial, and hopefully now her family in China can start to move on.
"The family are devastated and her mum's health has deteriorated rapidly as a result," Mr Breach said.
He said Daisy would write a victim impact statement on behalf of the family, which would be read out during sentencing next month.
Tian's father Zhong Tian and some of Tian's friends came to New Zealand from China to support him.
Tian's lawyer Paul Davison QC said his client's father was very sad at the outcome.
"The whole process has been very distressing for the Tian family," Mr Davison said.
"We worked very hard for our client, so we're disappointed with outcomes like this. But that was the jury's verdict and the Tian family have to adjust to the decision that's been made," he said.
Mr Davision said it was too early to say whether there would be an appeal, but added it was unlikely.
The jury of seven men and five women returned their unanimous verdicts at 3.45pm, shortly after requesting a replay of the 111 call Tian made to a police operator on the day of the killing.
The jury retired at 11am today after Justice Douglas White summed up the case.
Tian was remanded in custody and will be sentenced on November 19.
The prosecution said that Tian, who was a friend of Ms Ren and her boyfriend, stabbed her to death at her Newton apartment after their relationship soured over a business deal involving a car.
In the process of the attack he severely cut his left hand with the knife.
He then placed her body in a suitcase before calling 111 and telling the operator what he had done.
But Mr Davison told the jury it was Tian's drug associate, Jing Yang Zhang, also known as Michael Zhang, who killed Ms Ren.
Mr Zhang put plastic bags over his hands and feet, collected Tian's knife and went into Ms Ren's bedroom, where he stabbed her three or four times, killing her, he said.
Mr Zhang called Tian to help him get her body in a suitcase, and told him that he must take the blame for the killing and if he "sold him out", Tian's girlfriend would suffer the same fate as Ms Ren, Mr Davison said.
The trial ran into its fourth week.
- NZPA