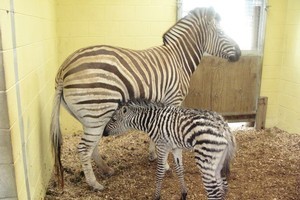 The recent severe weather may have played a part in the birth of a zebra at Auckland Zoo.
The 36kg baby was born in the early hours of Tuesday morning amid heavy rain and gale-force winds.
Stormy weather in the wild was the perfect time for zebra to give birth as it helped disguise the smell of birth from predators, Auckland Zoo pridelands team leader Nat Sullivan said.
"Mum is doing exactly as she should - being very protective of her newborn.
"It's incredible to witness just how quickly and strongly they bond, and impressive to see how lively this foal is. We think this stormy weather might have played a part."
Auckland Zoo now has four zebras and is expecting two new zebra fillies from Hamilton Zoo next week.
Both mum, Itika, and foal have undergone vet checks and are healthy.
The foal is yet to be named.
- NZPA