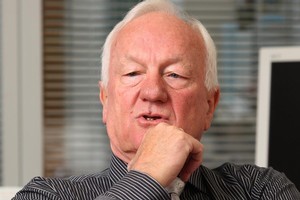 Prime Minister John Key has said he could work with anyone as leader of Act - apart from Sir Roger Douglas.
Mr Key yesterday faced questions about Rodney Hide's handling of last week's revelations that David Garrett stole the identity of a dead child to obtain a false passport and that Mr Garrett might have misled the court over his Tongan assault conviction when he faced identity theft charges.
Mr Key said he wasn't sure Mr Hide had all the relevant information available to him about the Garrett affair until last week. However, that wasn't the central issue in his continued support for Mr Hide.
"My responsibilities with him rest in the capacity that he is a minister of the Crown and in the 22 months he's been a minister I've found his judgment has been good."
However, should Mr Hide lose his position as Act leader over the incident, Mr Key said it was a matter for Act to decide who replaced him.
As far as National's confidence and supply agreement with Act went, it would not matter who was the party leader.
The only technical issue was "if they appointed Roger Douglas as the leader because I've made it quite clear I don't want Roger Douglas as a minister in my Cabinet".
In terms of Act's credibility with voters, that was a matter for the public to judge at the next election.
Mr Key said recent polling showed Act was suffering some impact from the Garrett affair, but he was not writing off his partners just yet.
However, Mr Key said, Mr Garrett himself no longer had a mandate and he should resign.
Mr Garrett yesterday told Radio New Zealand he was undecided as to whether or not he would go.
Mr Key said National's position regarding the Epsom electorate, held by Mr Hide, had not changed. National would run a candidate in next year's election, "and we'll make a decision over who that candidate is early next year".
Meanwhile, criminal law expert Jonathan Krebs, who convenes the Law Society's criminal law subcommittee, said knowingly lying in an affidavit was perjury.
Mr Hide last week said it was his concerns around a statement Mr Garrett, a lawyer himself, used in the court case in 2005, in which he was discharged without conviction, that prompted him to withdraw his support for his former colleague.
"If you have sworn an affidavit and filed it in court and used it in a proceeding, and it's untrue and you know it to be untrue at the time you filed it and used it, that's perjury," Mr Krebs said.
The maximum penalty for perjury is seven years' jail.
It was up to police or the Crown to pursue a historical case of perjury.
Sensible Sentencing Trust spokesman Garth McVicar said dozens of the trust's supporters had called in support of Mr Garrett, and they had expressed interest in a Garrett-led independent party with a law and order focus.
He said he had discussed this with Mr Garrett before last week's events.
"He was happy where he was at with the Act Party, but obviously things have [now] changed significantly."